All rights reserved. No part of this publication may be repro­du­ced, stored in a retrieval system, or transmitted in any form by means, electronic, mechanical, photocopying, recording or otherwise, without the written permission of the publisher.
To protect the original edition, all the books of the Vishnuh-Society placed encrypted and shortened on this site
Nature has created man, and man has created God in his image.
Thus, says the teaching of Vishnuh:
"All kinds of things are written in the Bible, Quran, Talmud / Torah, Bhagavad-Gita, etc., but nowhere is there the text:
"This book is a man-made distorted summary of the past folk histories and includes the methodology, philosophy, and fictions of former imperious, malicious and insane people."
The Bible and all other religious books include the fantasy of evil humanity. This also means that the Qur'an and others are an extreme extract from the Bible and the Torah, based on both fantasies and supplemented with comparisons of the writers.
… The only difference is that it is written in Arabic and other languages with their all-pervading on ideology, philosophy, and inscriptions of the plagiarists.
And this spiral of violence of abomination and inhumanity by the Gods as outlined in their sacred books has been practiced to this day by religious humanity.
… The students surpass their master because religious mankind now emphatically exceeds the former horrors and violence by their God.
So, Satan, God, and Allah are one and the same.
… It does not matter whether God ends up behind the bars because this compilation also applies to all other worldly gods that humanity has made up in the past centuries.
… Get rid of all religions, they are religious robber nests!
Thus, Vishnu's teaching states:
"Only nature lives forever, which is the source of all things that live and what one can see and cannot see. Nature is the creator of life. Honor who deserves honors"
I put God in prison.
I searched for God and suddenly saw him standing with a staff in his hand.
… I snatched the rod from him and pushed him with my stick in prison.
… God is defeated by the power of nature, and he can not fight against it because nature is stronger and more powerful than all gods together.
… So, this is the symbolic eternal punishment I have in mind for the fictional idealistic God of evil religious humanity.
… God is really the evil religious humanity, that is why this symbolic punishment comes directly to the earthly followers who have recorded their malicious ideas in writing, who for centuries have been called Bible / Quran / Thora / Talmud, Bhagavad-Gita and consider them as their own guideline. The beast is in man and man is the beast.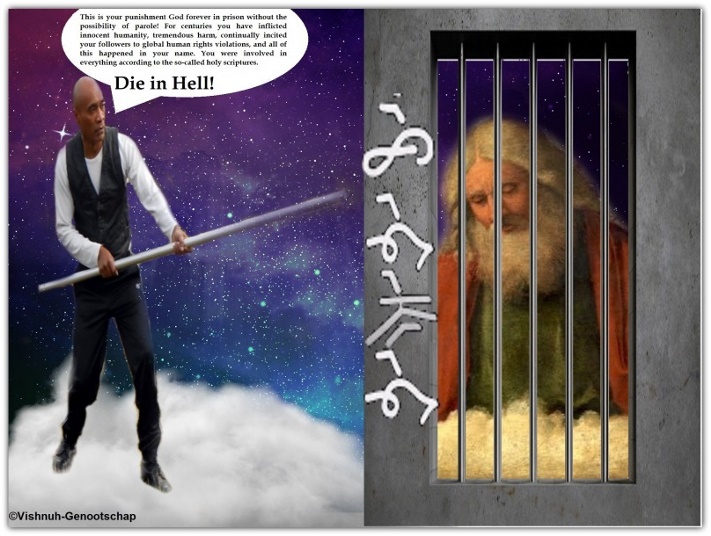 God is now where he belongs, behind the bars, in the prison of eternity.

The Bible, Qur'an, Bhagavad-Gita, Mishna, and Talmud united in the Torah, and all other religious writings, are the books of damnation! Wisdom is hard to find here.
Thus, says the teaching of Vishnuh:
"There is nothing up there, but if there is a beneficent power or something up there, man cannot know anything about it.
… Nobody happens to be wise because wisdom does not come from the East, West, South or the North.
… And man cannot learn wisdom from so-called holy books, but wisdom is born from the one who is honest with himself and with his fellow man.
… Only the lie has various versions, hence the different religions and scriptures."
Read and shiver along.
https://www.facebook.com/TruthShines/videos/2056641461248198/
http://skepticsannotatedbible.com/quran/says_about/religious_tolerance.html
http://skepticsannotatedbible.com/quran/contra/free.html
https://www.thereligionofpeace.com/attacks/in-the-name-of-allah.aspx
http://skepticsannotatedbible.com/BOM/says_about/terrorism.html
http://skepticsannotatedbible.com/says_about/terrorism.html
http://skepticsannotatedbible.com/quran/says_about/terrorism.html
And those who want to prepare first must follow Arabic lessons according to the rules of the Koran and the teachers. It is free and costs no money!
… All you have to do is cry and feel pain with every mistake. The Mullahs are allowed to rattle other people's children during the Arabic lesson. Most parents also find it normal if that happens to their child. This is the mandatory brainwashing.
… People who sympathize with Arabia, her habits and Islam are also barbarians, and this applies to both men and women because those who deal with pitch are infected with it.
Everyone is free to believe what he/ she wants, but keep that religion nonsense for yourself and do not impose it on others.
… There are preachers who proclaim so-called moderate Islam and tell all kinds of nonsense to speak their Islam well. But do not be fooled by this kind of Imams and Mullahs, not even by your so-called pious family, father, mother, brother, sister, uncle, grandfather or grandmother.
… These are all parrots in human form and only serve as a conduit of Islam because moderate Islam does not exist.
… There is one Quran, there is one Islam, which is evil in the name of Allah. The same applies to the Bible, Bhagavad-Gita, Torah, etc.
Judaism
The Talmud is one of the most important of all books in Judaism after the Torah.
… The Talmud deals with every aspect of Jewish life. Everything from what Jews wear and say, to how they act and treat others.
The Talmud states that non-Jews should be treated as beasts. With the Talmud, a non-Jew is not a human being, and who is not a human is equal to an animal.
… For Judaism, other believers, including Christians, Muslims, Mormons, Buddhists, etc., are also non-Jews, non-believers, are nominated for extermination.
The Talmud is a hat filled with hatred.
Coschen hamischpat 405. "A pregnant non-Jew is no better than a pregnant animal."
Sanhedrin 57a. A Jew does not have to pay an Unbeliever for the wages he owes him for work.
Ereget Raschi Erod. 22 30. "The Akum (non-Jew) is like a dog. The scriptures teach us to give the dog more honor than the non-Jew."
Schene luchoth haberith, p. 250 b. "Although the gentile has the same physique as the Jew, they relate to the Jew as a monkey to a human being."
Sepher ikkarim III c 25. "It is permissible to take the body and life of an Unbeliever."
Baba Mezia 24a & Baba Kamma 113b. If a Jew finds an object lost by an Unbeliever ("heathen"), it does not have to be returned.
Sanhedrin 55b. A Jew may marry a three-year-old girl (specifically, three years "and one day" old).
Sanhedrin 54b. A Jew may have sex with a child, as long as the child is younger than nine years old.
So regardless of whoever, a non-Jew is less than an animal in their eyes with which they can do whatever they want according to their sacred books. This is the worst people, followed by the Muslims and the Christians.
*So not only the Christians, Muslims, Hindus, Mormons and other religions promote their Satan, but also Judaism may join in this religiously traditional line of abomination and inhumanity.*
Read more atrocities:
http://www.realjewnews.com/?p=156
http://answering-christianity.com/jews1.htm
Almost all government leaders, governments, and civil society organizations that promote, defend or favor Judaism usually do so with a malicious intent, supposedly to keep the peace.
… These institutions and governments are neither for the bourgeoisie nor for the general interest as they usually promote, but they are actually out for their own benefit and like to walk over the bodies of their citizens and fellow human beings.
… In addition, they extinguish a fire that is unquenchable which is equivalent to carrying water to the sea. Pay close attention and look at the world around you.
By Gurubesar: Lancar Ida-Bagus

On behalf of the Vishnuh Society
FINI