All rights reserved. No part of this publication may be repro­du­ced, stored in a retrieval system, or transmitted in any form by means, electronic, mechanical, photocopying, recording, or otherwise, without the written permission of the publisher.
 ONLY NATURE LIVES FOREVER
NATURE IS THE CREATOR OF LIFE
The explanation: Klik hier 
©View the protected area of the Vishnuh-Society on Google Earth: Klik hier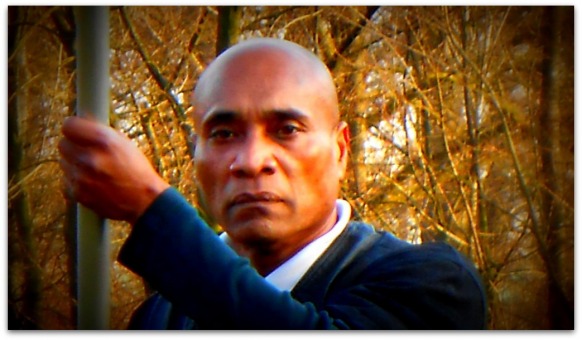 Adhipati: Lancar Ida-Bagus
Ladies and gentlemen, girls and boys,
   … My name is Lancar Ida-Bagus and I am the successor and superior of the Vishnuh-Society.
… I will give you a brief summary about life in my community, about our philosophy of life, and about our unshakable positions to which we are very attached.
The Vishnuh-Society is a centuries-old organ of non-religious citizens of the world who adheres to the philosophical ideology of its ancestors, "Vishnuism", which denies the existence and can the existence of gods.
Read more about Vishnuism and our way of thinking here: https://vishnuh.nl/english-books-1/only-mother-nature-lives-for/
The time of the past has been so that we can no longer be Javanese. We consider ourselves as earthlings of Indian, Javanese, Guyanese, Brazilian, African, and Dutch origin with our poesakas, family chronicles, literature, and culture.
 Despite the fact that the current generation of the Vishnuh-Society has become multi-cultural, she is firmly anchored emotionally and spiritually.
Skin color and race are unimportant for us, we are one big family even though many of us vary from very dark, slightly tinted to white.
 A variety of races is not an issue in the Vishnuh-Society since it does not matter to us where our origin lies because everyone was born on earth, but man has provided almost everything of earthly nature with a name. The Javanese people with straight hair with slightly tinted dark skin as was the case in the Indian archipelago no longer exist. Or they are Indonesians, Surinamese, Antillean, Dutch, etc. with a brief Javanese (Indian) background.
 After all, we are all earthlings. We must live together in prosperity and in adversity and support each other with word and deed where necessary.
To this end, our members all over the world study the management of the most common disciplines that we can use within our community.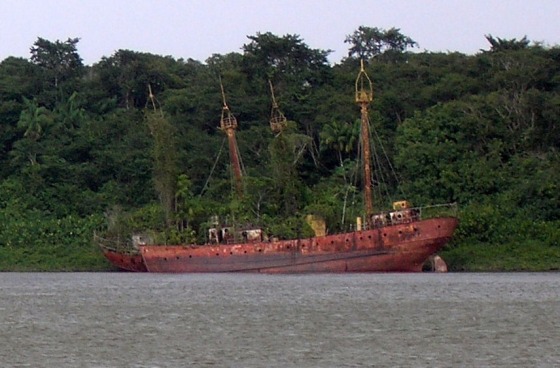 "The Vishnuh-Society is basically peace-loving, open-hearted, human-loving, hard but just." Unfortunately, the properties mentioned have been put to the test repeatedly. Before that, she came into contact in the near past with malicious indigenous peoples who approached her surroundings with bad intentions and thought they could play with her. With this kind of robber gang, we have made short work.
 The Vishnuh-Society only uses its right to destructive defense as a preventive tool, to ensure the quality of life for its members until well into the future.
Furthermore, we do not tolerate gold miners, lumberjacks, or adventurers close to our territory. We can miss such people as toothache.
 We loathe the hypocrisy of the believing peoples, who glorify forgiveness, respect, and peace to every listener by virtue of their religion, while in everyday life they are ready for the beasts as if a curse is upon them.
They are often out of wantonness to make someone else's life very sour, as a daily duty imposed by their God.
They laugh at you, eat from you, but as soon as you turn around, they'll stab you with a knife in the back, whether mentally, socially, or physically.
 These pious hypocrites, in full conviction, usually cry very vehemently "Hold the thief," but somehow it does not make it clear to them that their calibrated Yell relates to themselves"!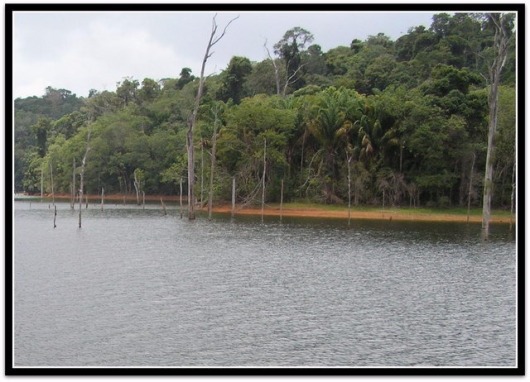 Women, men, elderly people, and children live in our community. And most of those born in the Vishnuh-society have been well trained from childhood to see the danger. Our people are often on the side of the river flowing through our village, busy with their daily worries, among other things, washing, bathing, playing, and washing up.
 Furthermore, our territory is guarded by the warrior guild of the Neberu clan, consisting of specific men.
These are the guards (Prajurits) spread over our entire residential area and stay along the border, constantly scouring the area for danger.
That this protection is necessary is shown time and time again, especially when the Surinamese interior became the backdrop of private wars by the competing government gangs in 1980, when they came to settle their quarrels too close to our community.
 The security of our community was an issue at the time, and for that, we know only one solution, that is *"Babhatan." At that time, we have rightly expelled the nearest hotheads by force and taken all their weapons and accessories.
There were a number of survivors, very young men, and terrified. We have left them alive but sent them destitute away. They considered us to be the counterparty because we reasonably wore the same uniform during that warfare, which we had previously captured at one of their camps. But normally we are dressed in black.
 As soon as the Vishnuh-Society decides on a Babhatan, all able-bodied adults, boys, girls, and women have their task, because we fight together to victory, but also with the consequences of death.
*Babhatan= Javanese; 1. Total destruction, 2. Call for war and trial.
 Unity is a strength. We must live together and survive together. In addition, empiricism has taught us over time to be thorough when it comes to defending our interests.
In all of this, we all pay particular attention to the fact that our community is not approached too closely by foreigners.
… After all, there is land enough, so stay as far away as possible from our environment.
Based on self-preservation, we are not friendly to strangers, and those who seek something in our neighborhood without good reason will only experience unpleasantness from us.
https://www.facebook.com/notes/vishnuh-genootschap/the-reality-in-this-time/1915980278650441/
In hostile confrontations almost always blood flows in our camps to a controlled degree. Until now, in all cases, this has led to the destruction of the aggressor and for those who have asked for death.
 The Vishnuh-Society is self-sacrificing when it can not be otherwise, as long as it benefits our community.
We have that for our brothers and sisters. We do not let ourselves be bullied by the government or by authorities. Then there will be war and the surprise will be great for the government or opponent.
 Our ancestors suffered together in times gone by, the generations afterward likewise. They were careful about taking innocent lives, and now we have followed in their footsteps. We will never hurt innocent lives spiritually or physically.
But anyone who violates one of us will personally pay in proportion. Then, there is no way for us too long and no mountain too high, for whoever deserves punishment will pay, to his grave.
 Our ancestors are our noble examples, who have sacrificed themselves by necessity so that the group could continue to live in peace or to overpower the enemy to preserve life. This is the noble aspiration of a Vishnuïst so that our groups worldwide can live on in all living conditions and, as traditionally, destroy our common enemy without mercy.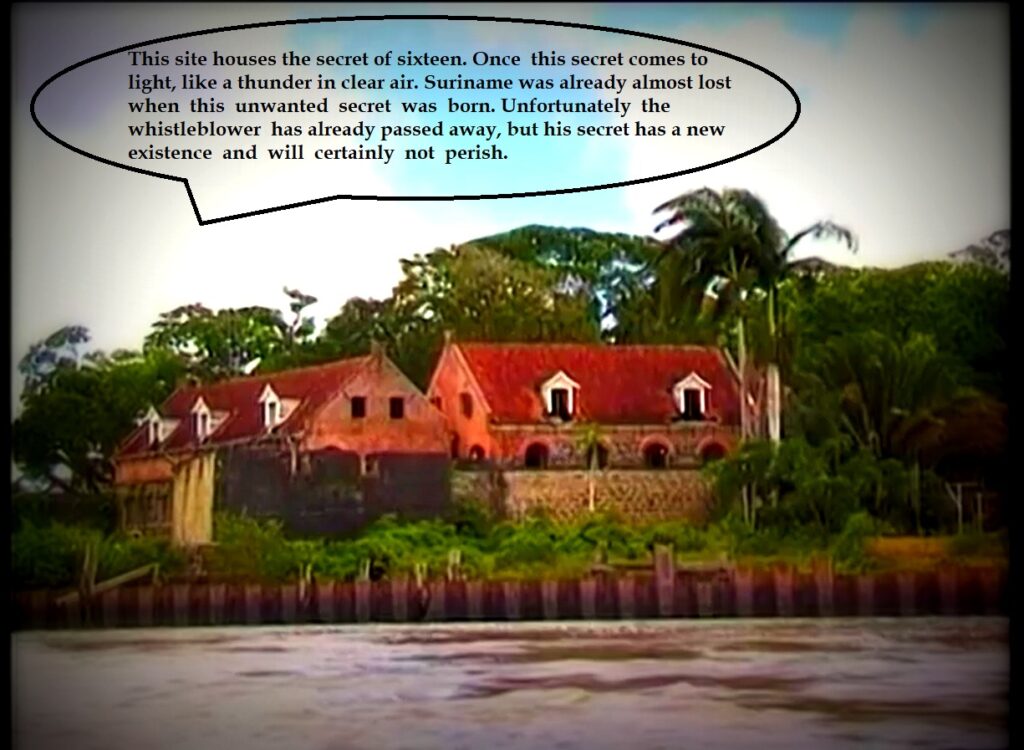 Sixteen coup plotters found here death.
This story is related to the above, namely "the group of sixteen."***https://www.facebook.com/notes/vishnuh-genootschap/a-tribute-to-the-late-ruben-roozendaal/1968082863440182/ ***
Whoever seeks will find. The Vishnuh community will always prevent its members from becoming victims of overwhelm and mistreatment by the Surinamese government villains or other wandering indigenous and exotic mobs.
 The Vishnuh-society knows perfectly well that its survivors, when they are overwhelmed by the enemy, will walk around in grief, like the Moiwana relatives, during their further life.
These defenseless people of forestland creoles were surprised by the Satanic aggression of their own counterparts around November 29, 1986, during which villagers, including children, women, and men, were murdered in cold blood by government troops, slaughtered like animals.
 … Our scouts have seen the slaughter, but we do not provide assistance to people who can be a threat to us.
Apart from that, we have often heard in their Sunday sermons that they have a God who watches over them.
We must watch over ourselves and have no god who does that for us, therefore we interfere with our own affairs and other people's matters are taboo for us.
 The Indian Wayana people also had a similar attack and were unable to defend themselves.
Fortunately, we have no God, otherwise, we would be slaughtered just like the people in question.
 We have often spied on these Catholic native peoples. In amazement at so much conviction, we heard how they praised their god with an angelic voice, how wonderful their God was, and that God will protect them from everything and everyone who wants to harm them.
Apparently, their singing was not pretty enough, because their God had most of them killed in a very cruel manner. 
In addition, "the child of God" did not make a distinction between age and gender, because regardless of who survived the first attack, a moment later, without mercy, shot dead.
It is also possible that their God was aware of the coming of the executioners, but when the first gunshots fell, so cowardly that God is, he was the first to run past a hare.
God also did not look up to his followers during his flight, but he simply abandoned them cowardly.
 Ironically, the victims were slaughtered by their own Catholic compatriots.
 It is precisely for this disturbed pious people group that one has to be careful, who, on the authority of the Surinamese Creole government, functions as an eliminator.
These are the Creole colonialists, whose ancestors were trained by their white father to torture slaves in the cruelest way, and who have transferred this legacy of horror and ruthlessness to their progeny.
 Anyone who falls into the hands of this insensitive part of the Surinamese population is in no way more assured of his life.
Most Christianized indigenous peoples look sweet, timid, and nice, but in the meantime, they are worse than wild beasts. They have mastered the behavior of their Catholic converts.
 So from whom have the so-called civilized populations, among others, the Christian Creoles, Native Americans, and others learned their cruelty?
From whom did they learn the inhumanities, which they regularly applied at will and still apply to the Surinamese bourgeoisie? This they have learned from their former rulers, from the white colonialists and the slave traders.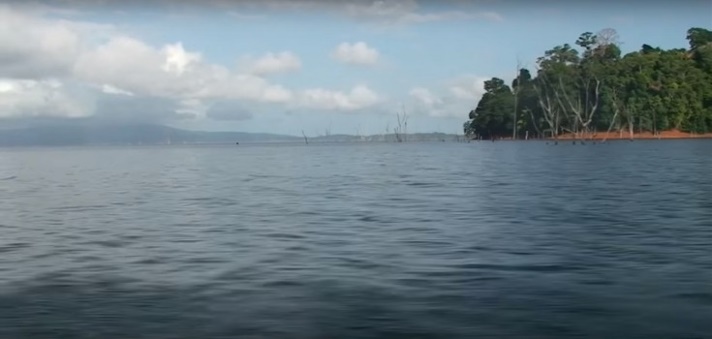 No one in the interior has to count on the Surinamese government with its corrupt government bodies and the Ministry of Justice. Apart from that, we are not waiting for assistance or for help from superstitious people, as this is the same as waiting for roadside assistance; there are no motorways here.
The interior is largely impassable for outsiders, so where the danger is everywhere. By the time official government assistance comes in, bulls can lay eggs.
 In addition, the government does not want to be involved in domestic disputes and matters that it does not control. The central government does not feel responsible for its selfishness for how heavily armed homegrown militias are banned and tried by indigenous peoples. That is far from their bed show!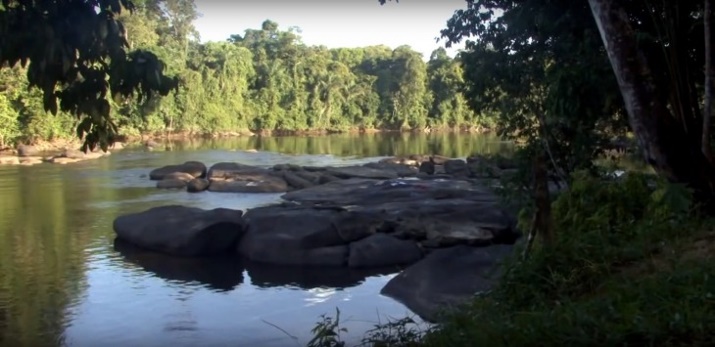 Here in the Surinamese jungle and the Amazon region only the Law of the Jungle counts, it is "to survive or to be killed", and in exceptional cases, due to lack of food it is "to consume or to be consumed."
 In all cases of danger to our community that lives in our area, we come "out of nowhere" and are always ready to protect every individual in our order against evil people to prevent annexation and all kinds of atrocities on our community by intruders.
 As already mentioned above, the Vishnuh-Society is for the sake of safety surrounded by its warrior guild, which is at all times combative, and trained to distinguish innocent people from guilty parties. The proposition that can be used for this is "Hard but Just."
 Furthermore, the Vishnuh-Society does not have a complex of cells in which the imprisoned enemy can be locked up because confinement of living beings does not fit within the ideology and life philosophy of the Vishnuh-Society.
Our society is strongly opposed to the detention of living beings in general regardless of the seriousness of their committed crimes.
 The Vishnuh-Society also does not want to interfere with the colonialist approach, such as slavery, nor reduce itself to human rights violations such as abuse of the enemy, torture, or the like.
The Vishnuh-Society does not wish to treat its prisoners as prisoners are normally treated by a large part of civilized religious humanity worldwide, with regard to long-term detention, which amounts to mental abuse.
 We find physical and spiritual humiliation unheard and inhuman.
The Vishnuh-Society also finds it unnecessary to feed its enemy, because it involves too much manpower and our own investment and we do not want to spend our time and our hard-earned money on that.
And since the Vishnuh-Society seasonal leads partly between two countries, Brazil and Surinam, a nomadic existence, it can therefore not allow themselves to be swindled with the imprisoned foreign invaders, but just, if guilty, let them go only dignified.
In short:
 "With proven guilty, the prisoner does not wait for torture, starvation, or torment, but as usual with a Klewang "the Head off and Done", and we do not mess with corpses, therefore we leave the lifeless bodies in certain places for the wild animals."
"Because in order to limit the danger to our community, we do not hold our enemy for more than a few hours and never let them leave our territory alive, as we do not take the risk of being attacked in the back.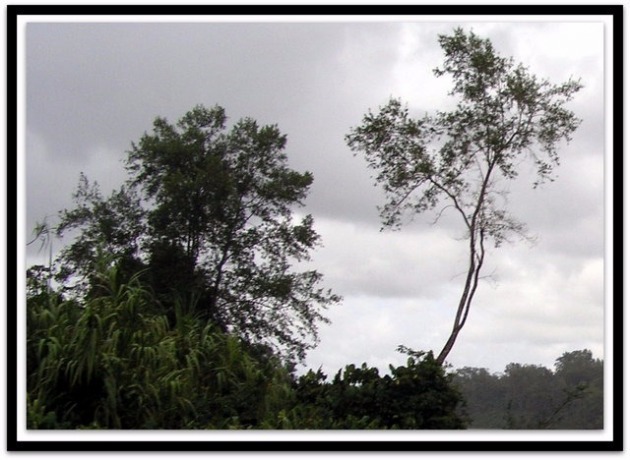 Because of the earthly curiosity of the criminals and their "extra long fingers", the wrongdoers heard in their last breath the whizzing of a *Klewang.
After this, we have never again suffered from robbers nor from looters. The message (Peace with all people) of the Vishnuh-Society has fortunately been well understood and penetrated further into the ranks of all the inhabitants of the surrounding jungle so that the bloodshed has become a thing of the past!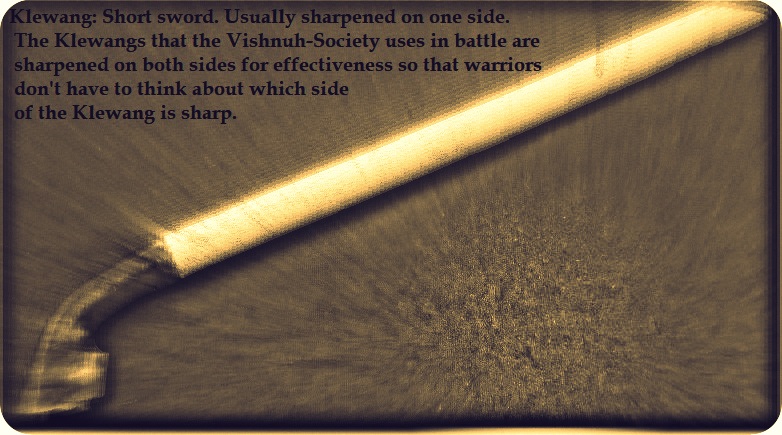 Thus, says the teaching of Vishnuh:
"Anyone who is guilty will hear the sound of a Klewang only once. After this, the perpetrator will never be able to hear anything again."
We are peaceable and forgiving from the moment the enemy crossed the Styx only then we are able to forgive the other party because there is no longer any danger to our community from that angle.
Following our philosophy of life, we do not bother anyone and we treat everyone with respect, but when someone harasses us, we will kill.
 In the case of jungle vandalism, discussions are excluded, in all cases, we shoot first before questions are asked. In doing so, we only ask questions to those who can no longer give an answer, and whoever is still alive, has only the freedom to flee.
Another option is not an issue. We are not hypocritical and without much fuss and without much thought we put an end to everyone who has been guilty of one or more of us.
 "Safety of our community is our highest priority, and we do not save costs or effort to find the wrongdoer."
Whoever is guilty will only hear once the whizzing of a klewang, and then nothing more, and it does not matter where In the world, a criminal who has done harm to one of us is either hiding in Paramaribo or elsewhere in the country or elsewhere in the world, even there he/ she is not safe from Neberu. "
 Foreigners will soon find out why the Vishnuh-Society prohibits outsiders, who happen to be in their neighborhood in Suriname and Brazil, strictly forbidding or filming their members. Every nation has the right to self-determination and the right to privacy.
 Furthermore, each population group has the right to self-defense and protection of its culture.
We too have a civilization and a vision of life! We prevail to remain ourselves instead of engaging in the epigonism of hypocrisy-based state philosophy.
Therefore, for safety reasons, the Vishnuh-Society always takes the necessary caution, because man is the most dangerous predator on this planet!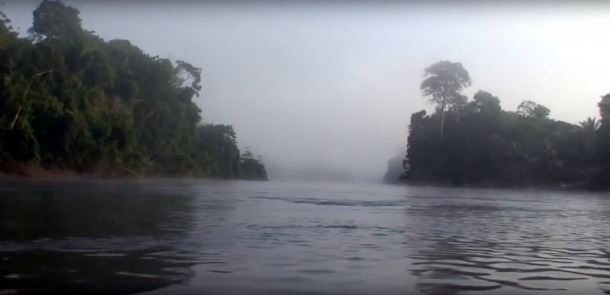 Furthermore, the Vishnuh-Society is independent and capable of an honest assessment of who is and who was not intentionally malicious. There is a very unpleasant surprise waiting for those who deliberately made the mistake of entering our territory without fiat or unsolicited. This is to deter adventurers and malignant in order to prevent future repetitions.
 The Vishnuh-Society advises everyone to interfere in their own affairs by doing their own things instead of putting their noses into other people's concerns. And those who do not want to hear must feel.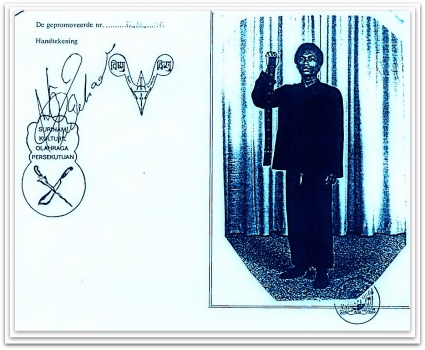 … On the other hand, Vishnuists welcome only just earth-minded people from all corners of the world. Anyone wishing to be admitted to our society must be in possession of written permission regarding a copy of a notarial deed.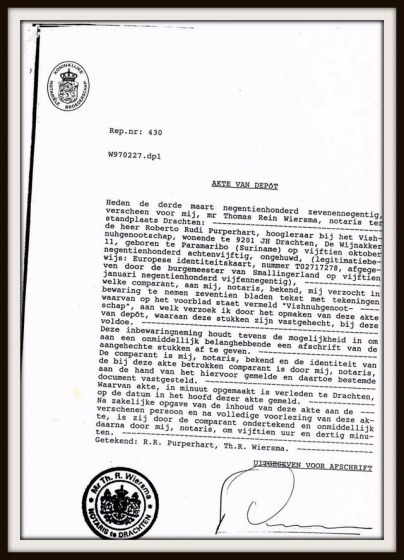 This copy must bear the signature of the Gurubesar, Lancar Ida-Bagus/ R.R. Purperhart, or his deputy and further stamped with his family seal.
This means that the owner of this signed and stamped document satisfies the deepest meaning of the word "Earthling" as recorded by the Vishnuh-Society scripturally.
 … But everyone who wants to watch monkeys has to go to a zoo!
Please note:
The Vishnuh-Society does not seek to change the world, but those who wish to strengthen our community will have to follow our procedure.
Criticizing our admission policy and household rules is useless. Otherwise, we are not waiting for adventurers nor for know-it-all people.
 We only welcome earthlings and those who are free of fear, sincere in spirit, and have no harm in the sense, will be admitted to the Vishnuh-Society and treated as a full member. Those who want to get to know us will undoubtedly submit to our rules, norms, and values and the adat of the Vishnuh-Society for the preservation of our order.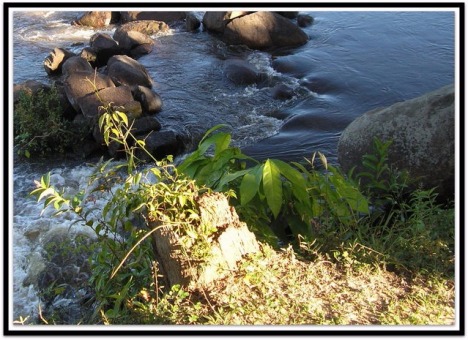 Although the Vishnuh-Society now has access to better consumer goods than in the past, it is also open to the latest technologies. In addition, she constantly studies all sorts of useful things that her members can benefit from in order to increase the survival chances of her members and at the same time to keep abreast of everything that modern times entail and what the world economy offers.
 … We use unusual material in our techniques and our theories are usually different from the regular order, but bunches of technology or not, our equipment certainly functions as the best.
What we have achieved is, in the eyes of some, more often labeled as old bad rust. But we do not bother with that, we are happy and content with what we have done. And in case of danger, we are capable of everything.
https://www.facebook.com/notes/vishnuh-genootschap/man-underestimate-nobody/1926688517579617/
We can further strengthen our knowledge and position by giving ourselves a better place in the world of people.
In addition, we can increase our life chances and stabilize our knowledge transfer as desired. As long as we are happy and satisfied with what we have and can survive, it is more than enough for us.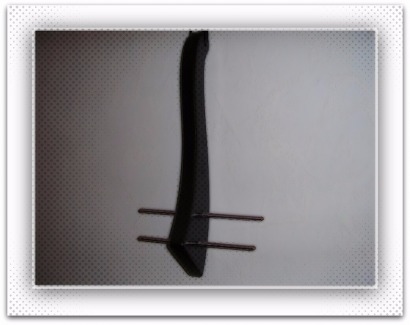 This striking weapon is called "Aarghon", Sanskrit for "skull splitter."
This is the family battle weapon of Vishnuh warriors (Vishnuists) with whom they used to go to battle against the enemy. And still.
 Nowadays the Vishnuh-Society also has the most modern weapons for when it would ever be necessary because man is the most dangerous predator that runs around on this globe, which is always ready for the robbery of other people's goods and possessions.
 … The Vishnuh-Society is a community of warriors who are always ready to protect its members.
 Everyone within our order learns very early on to handle all kinds of handguns, but apart from conventional weaponry we also know the operation and use of all kinds of firearms, which our society has seized over the years and have been introduced by our members.
 … All this gathering has resulted in a large arsenal of weapons that can come in useful to us once.
I say this in view of the increase in the unlawful seizure of indigenous territories, land reclamation, land theft, and violation of other people's possessions by the government.
 The government believes in its conceit that by its legitimacy it is permissible to act according to its own mindset and that everything it does is naturally allowed.
 We want to live in peace with all people, and let us not take this away from anyone. Our members have acquired knowledge in all professions and have settled in the midst of our enemy in the course of time. In addition, we have ample time to prepare with a strategic plan of approach, so that when the moment of action comes, can provide a tropical surprise.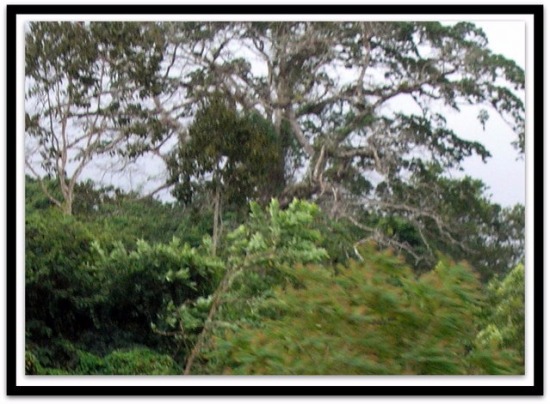 … We are not impressed by the defensive power of the government nor by the skills of its troops.
 … Yet the Vishnuh-Society does not underestimate anyone. But if ever again "Moiwana" situations threaten to arise in the Surinamese interior due to governmental indebtedness, this will be crushed in all their ranks with all their habits up to the central hearth (capital).
 .. We will not let it happen to us, as happened in the village of Moiwana on November 29, 1986, in which rival government troops have carried out an act corresponding to their cowardly nature.
… Unarmed innocent villagers, men, women, and children were shot off like wild game. They were very easy prey for the armed parties.
 … And today the survivors of the victims are still wailing and as desperate sheep, all institutions are crying out for compensation and justice.
… Unfortunately, they will receive neither justice nor compensation from the Catholic murderers nor from their merciless God.
A sentence was pronounced long ago in their favor that still has to be implemented, but when this happens, Joost Vondel only knows. Also with their beloved head of state who has been calibrated by a Surinamese bishop as the child of God, the descendants will not find mercy.
… And all the governments that will rise after the fall of the child of God (Delano Desire Bouterse) will not do anything about the Moiwana suffering, but will eagerly profit from the Surinamese community and focus on the plundering of natural resources of the country.
… This is because the Surinamese population is for the most part led by the descendants of the earlier religious ancestral traitors of all kinds who will always follow in the footsteps of their former evil religious ancestors and rulers, for the malice and manipulative traits are in 75% of the Surinamese population is still deep in their blood.
 … These faithful descendants, in view of their religiosity, should simply resign themselves to the texts of their sacred book on absolution and should conclude the whole genocide affair as the will of their God.
 … It must be clear once and for all, that the people who love their life and culture should not accept everything or have to let themselves be put in front of someone else's cart because whoever yields to his oppressors or joins them, will lose more than his life and are doomed to extinction.
Thus says the teaching of Vishnuh:
'Whoever wants war will get it and whoever wants peace will get it. The only thing we are afraid of is when the sky falls on our heads, but that will never happen because Heaven encompasses the imagination of evil people."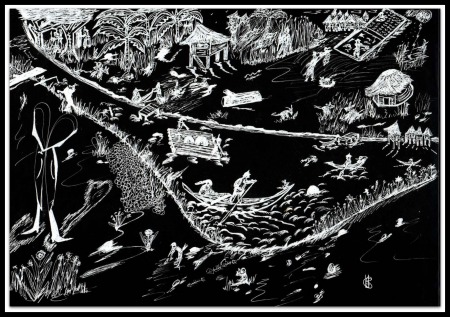 We also want to live like them and preferably in peace with everyone, because the world is also for everyone.
… The Vishnuh-Society loves everything that nature has in its bosom. Therefore, she will ward off everything that can be harmful, to protect her members, nature, and its contents, and the only thing she hates for self-protection is killing people.
 … Unfortunately, the malicious human being offers the Vishnuh-Society no other choice in some cases, and in order to avoid having to parry an attack in the back later, she offers her enemy no chance at all. This is life, hard and inexorable.
By Gurubesar: Lancar Ida-Bagus
To protect the original edition, all the books of the Vishnuh-Society
placed encrypted and shortened on this site.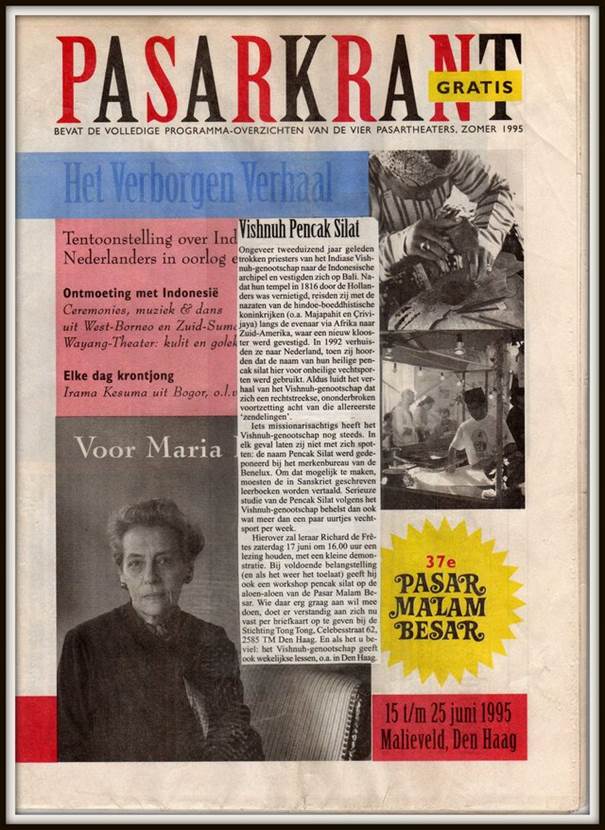 Authentic self-defense and Combat Doctrine
If there is something within the Indo Community that is a source of mystery then it's the story of Pencak-Silat. The term is widely used, but its interpretation is not clear, as the history of the emergence and development, apart from the story of a Javanese woman, was collecting water from a creek and there a stork and a tiger in the water saw fighting with each other.
 … Her husband, who was a man who likes to beats his wife (perhaps an Islamic custom, as the oppression of women in Indonesian society today is still normal), became impatient when she stayed away too long, according to him.
 … The woman who was well aware of the violent nature of her jealous husband reluctantly went home with the idea of a beating in anticipation. Through this thinking, she decided no longer to be overwhelmed and ill-treatment by him.
 … At home, she dodged for the first time in her life, the well-aimed blows of her husband by exactly repelling as it has seen the animals do earlier in the day at the shore. Thus Pencak-Silat would have arisen according to Indonesian tradition.
 … So there are a big number of such misogynistic positions intertwined with fantastic native tales and religious fables in Indonesia about the origin of the Pencak-Silat, where the population is afflicted with superstitions and in addition to their custom Christian and Muslim faith also believe in the craziest things that are considered as ancestral and sacred.
 … Through all these fantastic homegrown tales it often looks like a game where Indonesians are trying to outdo each other in tall tales and religious masochism, the one Indonesian tells it better than the other.
 Note of the Gurubesar :
 Superstition is based on the fantasy of believing figures and troubled individuals, and for whom "Black Magic" and "faith in God" is a serious matter … then one will have no trouble believing that some people have claimed that I can conjure. 
Indeed, I have a Red magic stick!
… Look … nice eh! And if I let my magic wand thunderous tantamount to someone's head will surely fall down unconscious with a severe concussion as a result. Is this also sorcery?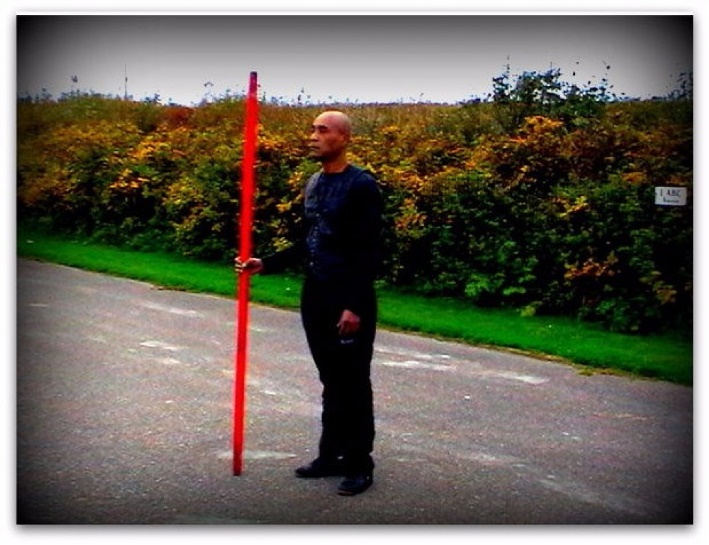 REMEMBER:
 Remember that all names, terms, and popular culture that Islam itself has unlawfully appropriated during its establishment of the Indian archipelago and has ruined the oppressed Indian nations for centuries do not actually belong to them. It's hard but true. The land which is now called Indonesia and its people have been sickened by Islam. The Muslim doctrine was akin to a relentless disease that never heals.
 So finds the Indonesian people into thinking that they are doing culture technically well while their current culture is completely shod on Hinduism.
The Muslims in the course of history stole everything from the Hindu culture and also incorporated everything into their books. The original pioneers of the archipelago were cowardly persecuted during that time by Indonesian ancestors and other sycophants with the former colonial occupiers, killed and sold overseas to slave traders of the time.
 In fact, almost everything in Indonesia has nothing to do with the Indians as was the case at that time, so before white predators in human form were disrupting the peace and quiet of the Indian archipelago.
Thus, there is almost nothing more Indian but Indonesian and Indians are no longer inhabit the land, but the Indonesians as the descendants of the former oppressors and traitors.
 The other innocent Indian peoples have had to rely on resigning, under the yoke and coercion of those newfangled Indonesian colonialists, simply whether they wanted to or not. Through these social constraints, one is forced to merge into the "Neo Indonesian colonialism" to survive! They are there now all Indonesians with a brief Indian background. "That's it!
 To make the discussion short of the origin of Pencak-Silat Indonesians proceeded at some time to interpret the name Pencak-silat as an "umbrella term" for Indonesian martial art systems developed by Indonesian sports masters who have been copied their fighting techniques from the Karate and existing Asian sports with the only difference being a low and flexible attitude (the relaxed Karate) and hold contests within the meaning of the sport.
  Today, every martial arts enthusiast can hide behind an Indonesian Pukulan organization where European individuals are given the opportunity to be with a purchased Indonesian diploma or with a so-called Indonesian headteacher license issued by a gym in Europe (see below.)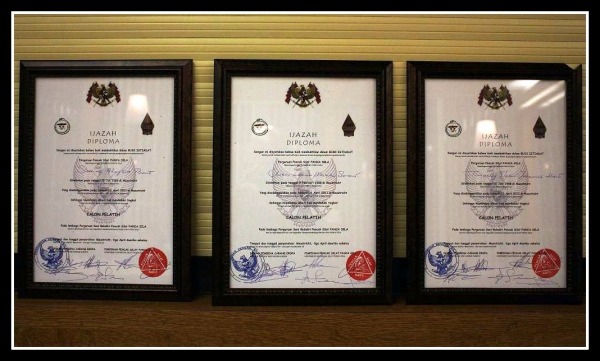 It is well known that many Asians and stakeholders in recent years, hiding behind one or more Indonesian federations for name support and to justify their activities to the outside world.
This is not surprising because Indonesia is today the most corrupt state in the world, she is interested in every area as a welcome source of income. Nice and creative are all together is of course very welcome.
 The Indonesian aforementioned method of disseminating their invented martial arts systems gives people who did not fall on their minds, the general impression that Pencak-Silat is a martial art that one can obtain in a supermarket as a packet of butter as a reward for completing a survey form.
Like this (see below.)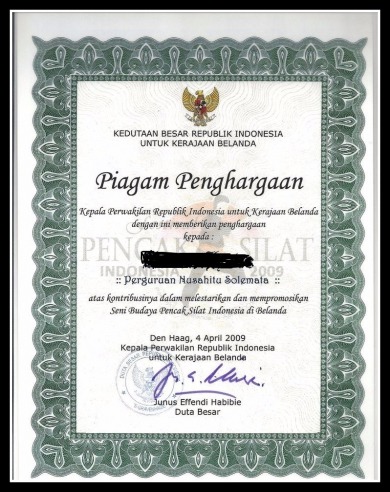 Then I have not yet talked about the practice mode by Indonesian nationals, wherein almost every village one or more so-called " guru " or " Guru Besar" or "Kepala" live, where they entertain tourists for their essential cost of living in various ways with their artistic physical manifestations which are all marketed under the name Pencak-Silat, which actually and historically have nothing to do with the authentic Pencak-Silat fighting doctrine as originally centuries ago in the Indian archipelago was developed by members of the Vishnuh-Society.
  Of course, outsiders, tourists, and other laymen do not compare what is traditional and what is not.
… They still see locals perform cool moves that are presented as the traditional Pencak-Silat, some operations work on their funny bone.
  Usually, vacationers find the antics of their host country amazing, as they are not much used in their own country. Indeed, they do not give a damn how culture-related sessions will be brought by the Indonesian people.
… If they have fun they find everything best. This is not culpable behavior from outsiders, it's not their culture. So, no one can blame the vacationer, it is not their pakie-an.
  In Indonesia, itself seems to be that which is physically a little artsy busy and can improvise quickly is called "Guru" or "Guru Besar".
 … It is now common knowledge that the concepts of "Guru" & "Guru Besar" are unprotected titles that any artistic person can freely use or mention his own name.
 That even Indonesian academics are drawn with the title "Guru Besar" in a line indicates the dubious level of calibrated Indonesian.
 … This is in contrast to the word "Gurubesar" as used by the Vishnuh-Society for its members.
 … So, the title "Gurubesar" is a succession academic title that comes from Sanskrit and is written as one word, thus not comparable with the split form used by Indonesians in two words, "Guru Besar."
 In short, a "Gurubesar" as one word written is an academic title deposited by the Vishnuh-Society and established exclusively for its members and is, therefore, a protected title.
 … It is, therefore, no one allowed without relevance to use the title "Gurubesar" or just mention its Title to his name.
 Nowadays it can no longer be taken away that the lion's share of the Indonesian people and people around the world is concretely familiar with the true origins of the Pencak-Silat.
 … And meanwhile, the name abuse is known to many, and that the Pencak-Silat Doctrine is much more than a physical combat style, but the exact contents are not known to anyone.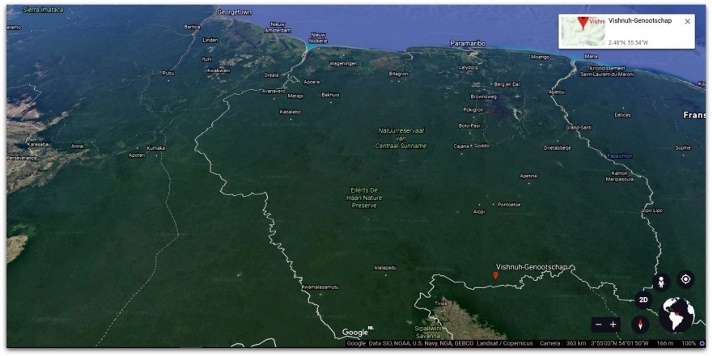 Since 1992, here is changed. The name " Pencak-Silat " is formalized by an heir and a priest of the Vishnuh-Society, Ulomo Lancar Ida-Bagus Gurubesar Pencak-Silat, at the Benelux Office for Goods Manufacturers the Hague filed under number 507 115 as a protected trademark.
 For this purpose, the Pencak-Silat documented exactly what its content is, its occurrence, and the development of a total of 10 styles during the 2nd to 6th century AD, as the Harimau or Macan, Monyet or Cingkrik, Garuda, Laba-Laba or Kumbang, Pamor or Yoghettane, Titiyan or Kuda, Ulomo, Khodok, DejaVu, and Kambing.
 … All this is on the basis of the translations of the entire Learn Sanskrit, the original lontar, and Kropaks of the Vishnuh-Society.
 This society drew at the beginning of the era from India to the islands in the archipelago, and their first monastery was established in Bali, Gunung Penulisan. Then the priests went with the descendants of the ancient Hindu-Buddhist kingdoms (Majapahit, Sailendra, Mataram 1 Sriwijaja, Pajajaran, etc.) along the equator from Africa to South America where a new monastery was established.
 In 1975, the Society learned that the name Pencak Silat was used for a combat sport, and a storm of indignation did flare-up.
… Initially, the abbot wanted to send some Prajurits who would go research according to the Adat.
… This means that anyone who claims to teach in the Pencak-Silat, which could prove spot.
… Only one person could then stand up. Pencak-Silat is developed for battlefields and not for sports.
 … Anyone who claims to practice sport under this name abusing the name and practicing non-Pencak-Silat the way she was.
 After all, the name of an old heirloom (wasiyat) of priests has been developed in a scientific manner and only could be passed on to a descendant of the founder of the Society Ida-Bagus dynasty, through the Suwalapatra was abused.
… And while it historically was not possible because the priests curtailed the spreading of the Pencak-Silat doctrine in 1812.
… In addition, never the whole doctrine taught outside the Vishnuh-Society to others.
 … However, in the period between 800 and 1812, a number of Pendekars trained, who were trained in a number of techniques that they needed in their environment to ensure safety, supplemented by (marginal and general) knowledge of herbal medicine, biology, only physics, and other subjects.
 … Hence the name Pendekar; Pendet (short), Aryani (knowledge in Sanskrit) = short acquaintance.
 It is, of course, possible that descendants of these Pendekars' learned techniques have passed and completed with their own techniques and techniques from other martial arts such as Kun Tao, Karate, Chuan Fa, Pukulan, the Malaysian Bersilat, etc., but strictly speaking, it may not more talk about the Pencak-Silat.
 … They never spoke before the Second World War about Pencak-Silat but about Pukulan, Persilat, etc.
 A Dutch insider, a member who has lived until his death in the Vishnuh-Society has time to advocate not to send the Prajurits but the youngest priest because he can think the most modern and had to find the other way to bring out the truth about the Pencak-Silat and restore the name.
… In any case, the Pencak-Silat now revealed and it allows everyone (young and old) are free to study it. So styles can be analyzed and complemented with authentic techniques and the background of each technique can be explained.
What can a donor expect from the
Vishnuh-Society?
 A. A donor has nothing to expect on the first anniversary of his donation to the Vishnuh-Society, based on the fact that a gift comes from the heart of the giver, who is in possession of his full spiritual faculties. A donation is voluntarily donated by the person (s) involved, without being bound by the given conditions or provisions.
 … A gift of charity is free of obligation and is not a means of influencing or controlling another in any way.
 B. In Europe and in the rest of the world is a government grant and numerous private organizations usually linked to a consideration which is always done in order to crumble an organization with a finger in the pie in one way or another to give to their existing religious structured planning and selfish societal goal.
 … The Vishnuh-Society does not participate in this European Christian hypocrisy nor the Islamic hypocritical behavior, which is contained in the European and Muslim state philosophy in which the Constitution is based on the Bible and the Koran.
 C. The Vishnuh-Society does not wish to engage in national and international institutions, such gifts purport to provide grant applicants, as described inline
 B. The Vishnuh-Society knows to whom they heartily thank and for whom only commands and prohibitions will apply.
… The Vishnuh-society feels no obligation to respect donors, who have donated to the Vishnuh-Society or intend to do so, but humanly one may well expect us …
 D. – Each donor or giver will receive automatically all standard protection from the beginning of his donorship and his personal details, except in cases where it can perpetuate its protection in all fairness is not required.
 E. The Donor qualifies for the honorary membership of the Vishnuh-Society after 5 (five) years unless otherwise stated, with due observance of the rules of procedure for members, unless otherwise agreed by both parties.
 F. E rule does not apply to interim donors who join the
Vishnuh-Society. The Rules of Procedure of the Vishnuh-Society is the newcomer from his or her enrollment in full force.
Thus says the doctrine of "Vishnuh":
"We are not herded animals, but we do have community awareness."
By Putuh-Agheng: Max Overwater