All rights reserved. No part of this publication may be repro­du­ced, stored in a retrieval system, or transmitted in any form by means, electronic, mechanical, photocopying, recording or otherwise, without the written permission of the publisher.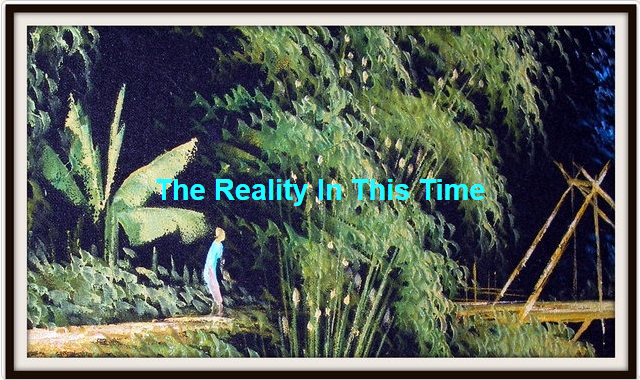 *** IN THE REAL HUMAN LIFE, MAN MUST BE HONEST WITH EACH OTHER. EVERYONE HAS ITS OWN VIEW WHAT NO ONE ELSE HAS.***
A. The Vishnuh-Society has no respect for any religion, because how can we give respect to religions, who are the inventors of hypocrisy, lovelessness, genocide, discrimination, oppression, and selfishness?
B. In addition, the Vishnuh Society also has no respect for institutions that consolidate and spread religion.
… For humanitarian reasons we can not respect the institutions that have promoted subjugation, domination, unscrupulousness, divisions, misery, and dissension to mankind, as well as the cause of mutual wars, xenophobia, and genocide, and still today, and of all kinds of worldwide human rights violations on behalf of their God.
C. Furthermore, the Vishnuh Society also does not respect people who regard their religion as their cultural heritage because these people are consciously or unconsciously adherents of misery, cruelty, war, caste system, poverty, and oppression.
… We can not, for obvious reasons, love people who consciously or unconsciously keep their progeny stupid in order to mask their backwardness in a haze of piety and ancestral tradition, which will always degenerate into misery for their offspring and fellow human beings.
Furthermore, the Vishnuh-Society of the under A, B & C cannot say anything about "letting them in their value", since there will be false value. And anything contrary to humanity is worthless.
But the Vishnuh-Society has great respect for all living beings as part of the wild nature.
… The Vishnuh-Society rather says everything honestly and sincerely and can not slam with fellow human beings.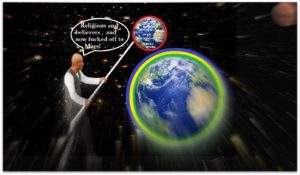 The believing world is on its way to the planet Mars.
Thus, says Vishnu's teaching:
"For whoever respects his fellow human beings will always say the things they are because it is a big crime to keep back and to mislead fellowmen."
Furthermore, the Vishnuh-Society will never deal with the religious world on the grounds that it respects her or not.
… This is because the Vishnuh-Society does not pay attention to the way in which religion deals with respect to dissidents since religiously-related organizations/ institutions/ churches and religiously-malicious people have never demonstrated the intention of understanding respect and therefore never knew respect.
And when in the past by the church and hypocritical religious people showed respect, it turned out to have been false respect, because those who have led wars and deceived fellow human beings in the name of their fiction, God, have disadvantaged, massacred and colonized people over the centuries to become number one in the future, are unreliable and cannot to be trusted in all times.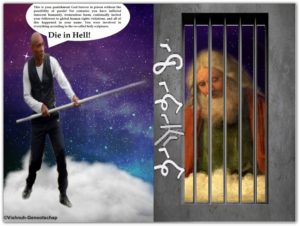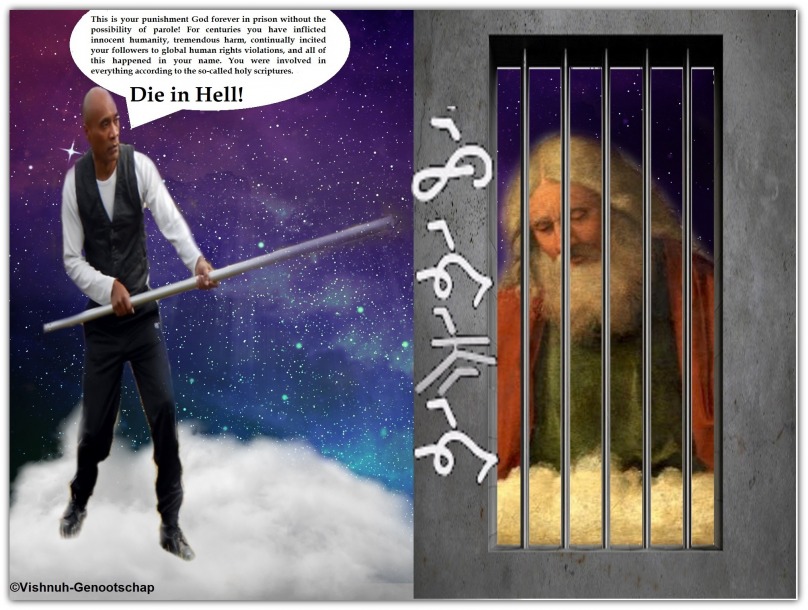 God is living here right now, behind the bars.
This kind of evil people and institutions will repeat their nefarious plans in many ways in the name of their Lord.
… Nowadays, many present themselves in all kinds of charitable faces with their seemingly peaceful intentions and thus their malice surrounded by optical illusions, so that people can no longer distinguish between good and evil.
These are all social tactics that religions have used at this present time to convert innocent humanity to their faith.
… And with money one can make mankind believe everything. Because of this these two extremes, good and evil, have become a gambling element for the desperate and ignorant humanity.
Thus, the religious world can not respect another because of the "religious curse", the "inheritance", which continues and is incarnated in their ranks.
… To this end, refer to the religious misery of the past and its transmission to the present.
Actually, respect for his fellow human beings is: "Destruction, and the fire in all religious books or religion, so that all the baddies ever created by malicious people using their delusional Bible, Quran, Thora, Bhagavad-Gita, Tripitaka, Sectar creations, all belong to the past.
Who wants to achieve world peace, harmony, equitable distribution and equal rights for all people, has to restart with a clean slate.
… One should not wait for the one who first puts his armor on the ground, but by shedding his own religious courage with respect for everything that nature has ever produced and still produces as the creator of everything that has lived, lives and Still have to live.
Nature is the creator of life. Honor to those who deserve the honor.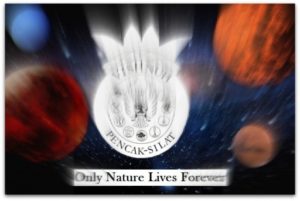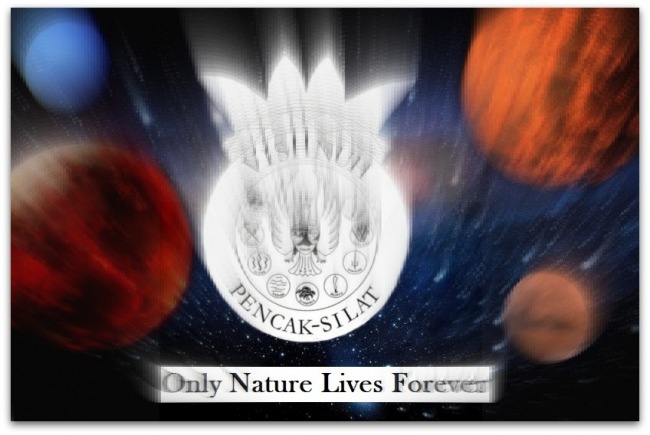 By Gurubesar: Lancar Ida-Bagus