© All rights reserved. No part of this publication may be repro­du­ced, stored in a retrieval system, or transmitted in any form by means, electronic, mechanical, photocopying, recording or otherwise, without the written permission of the publisher.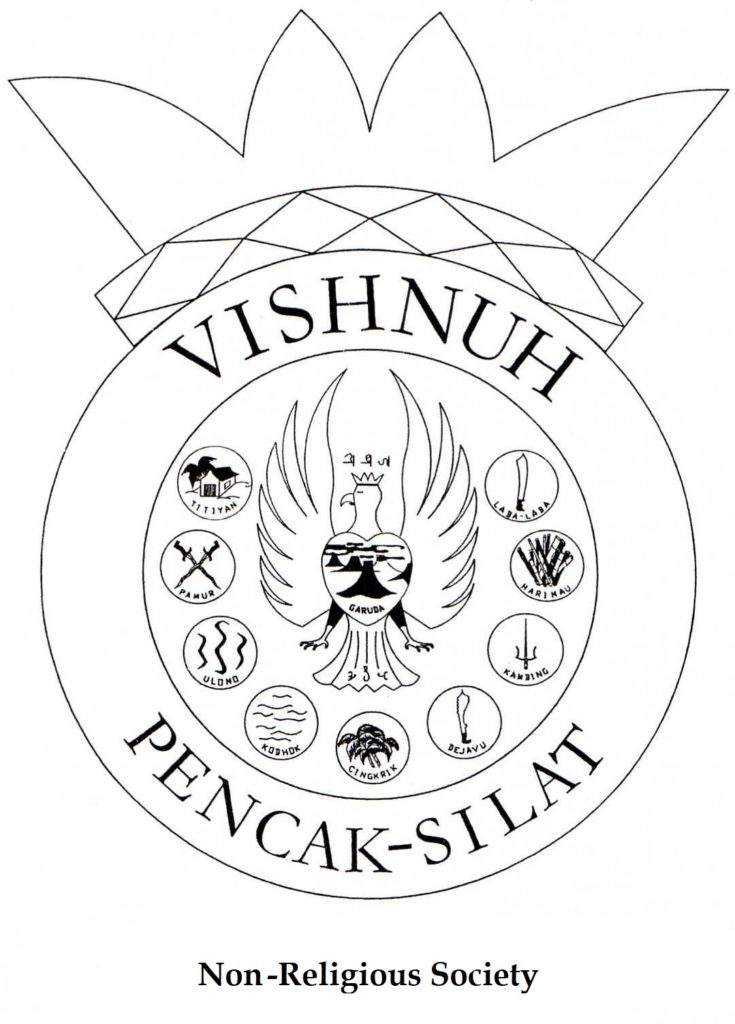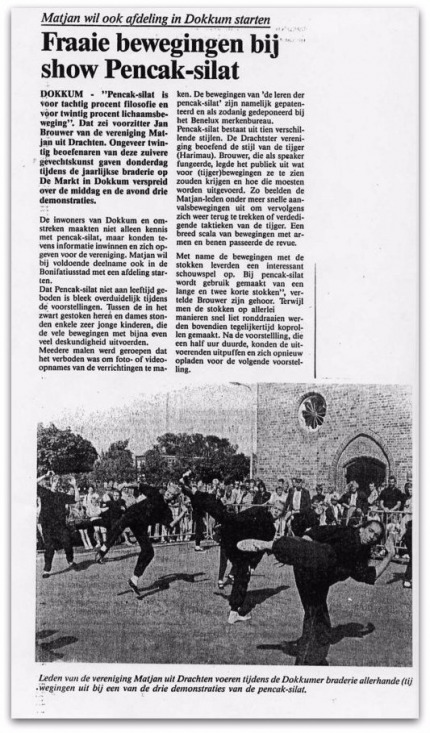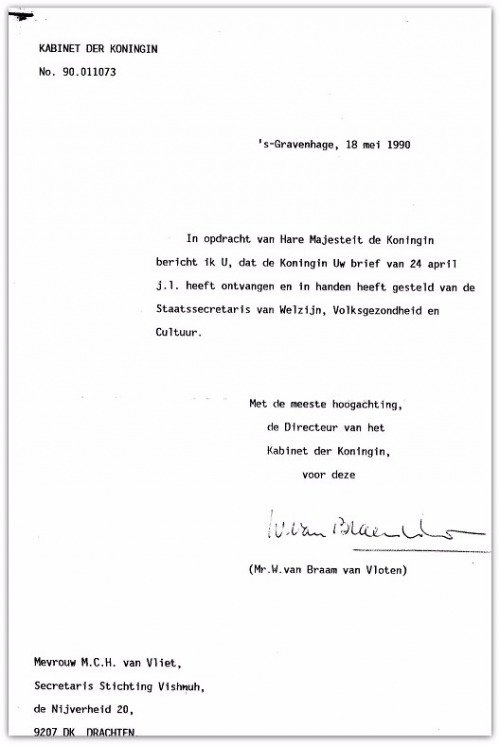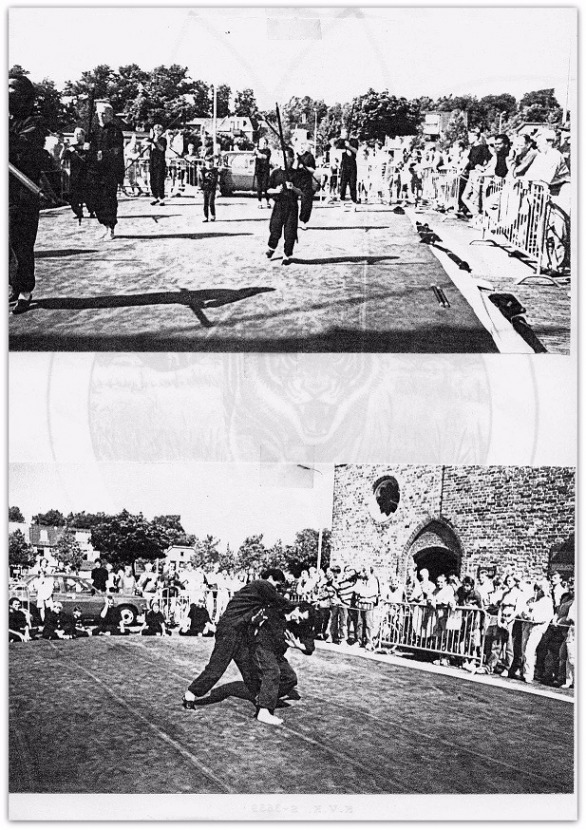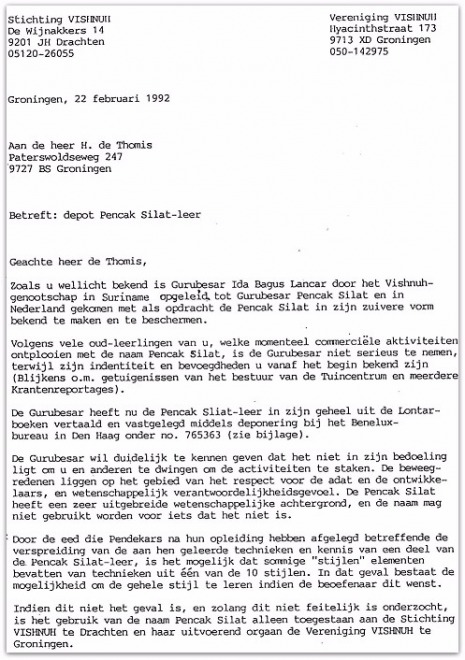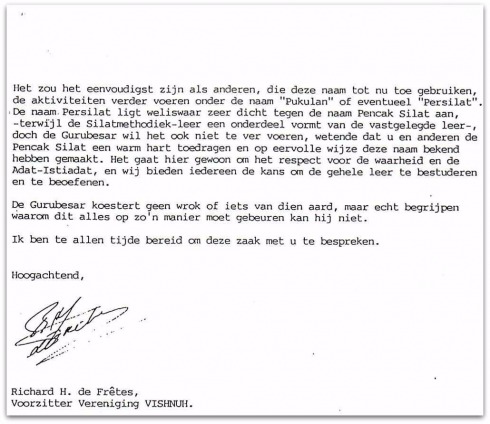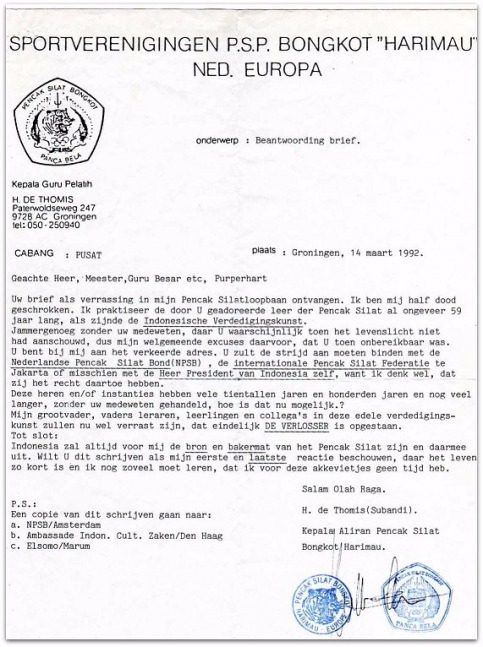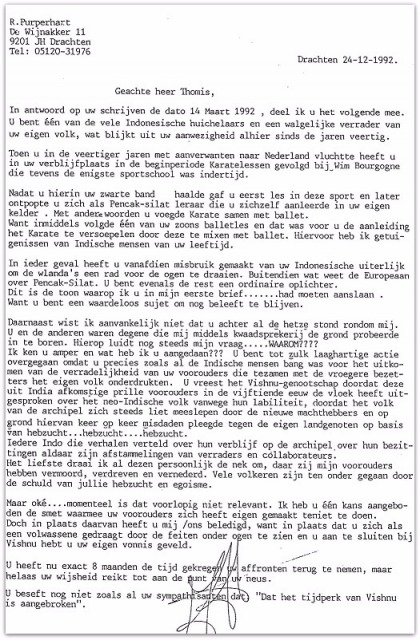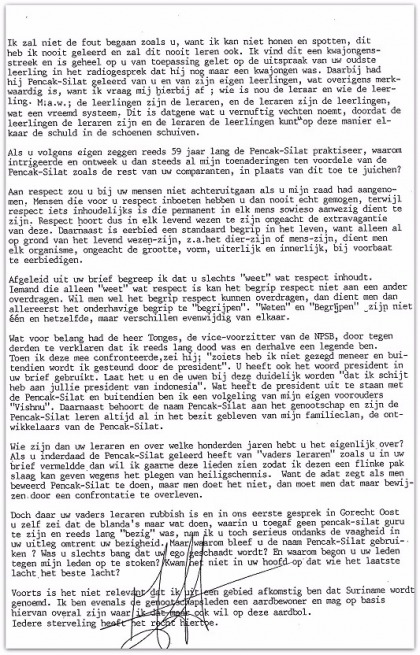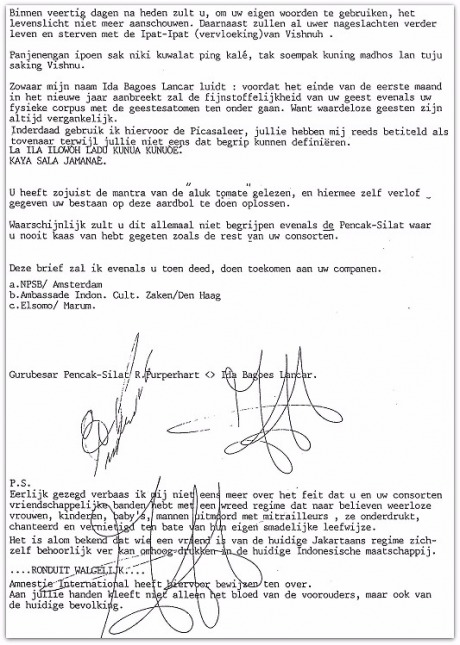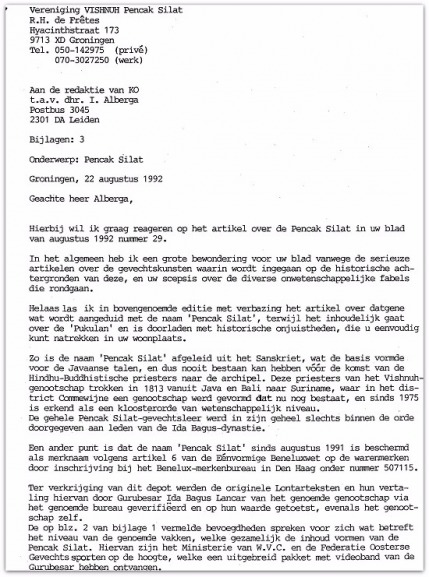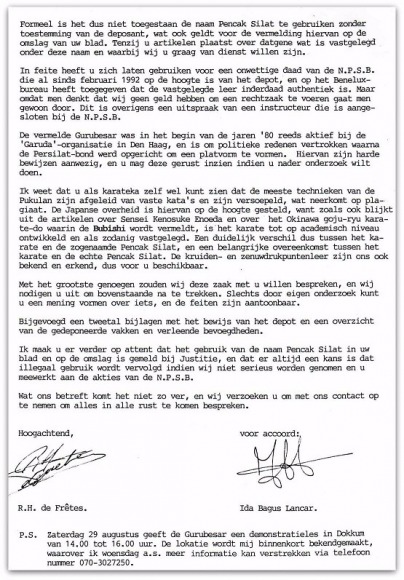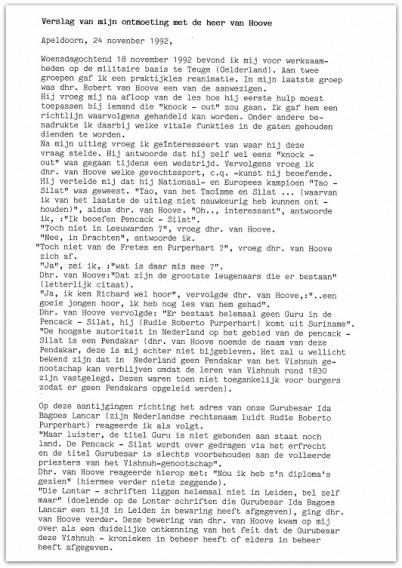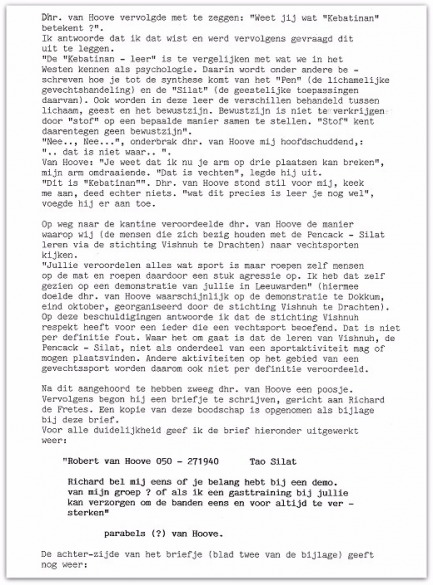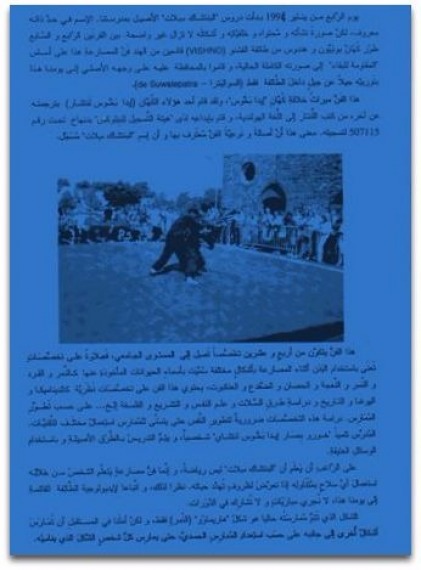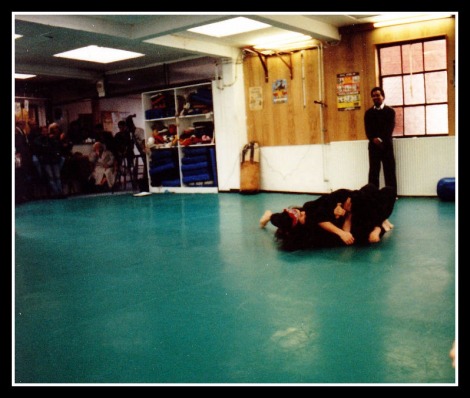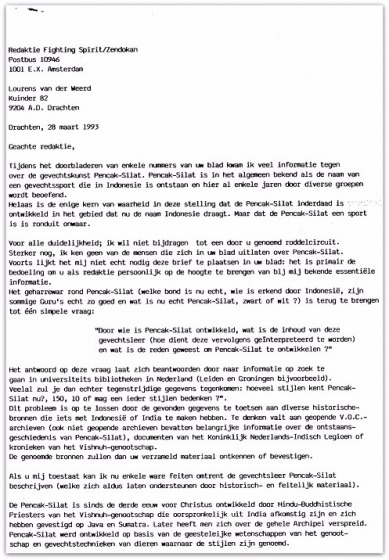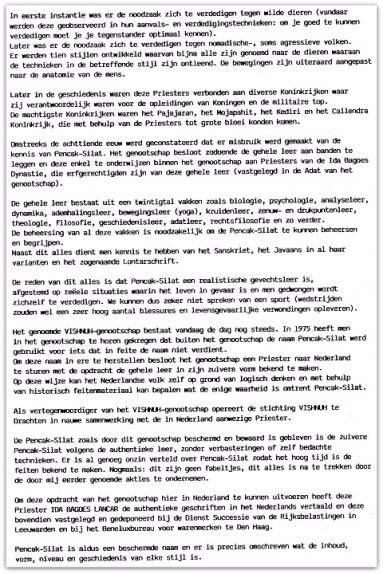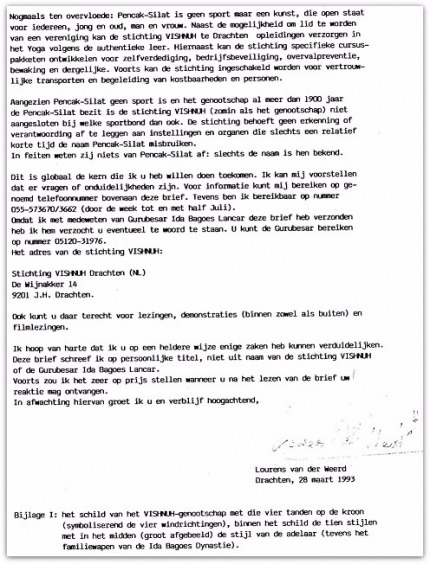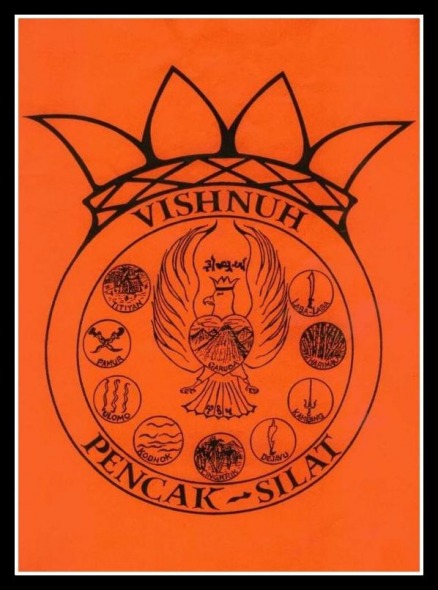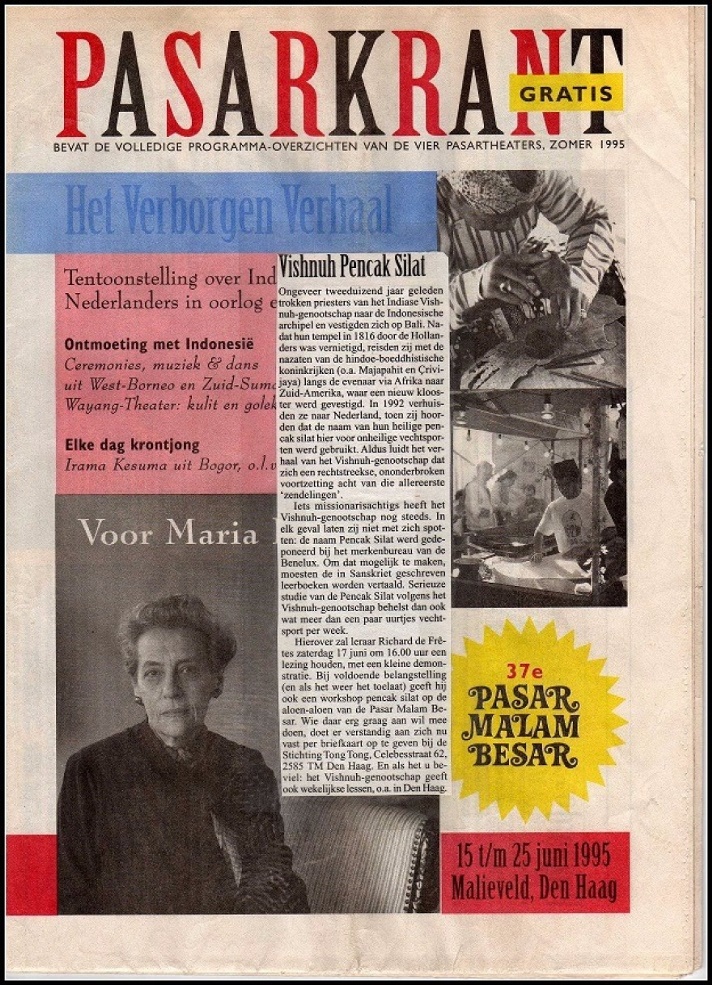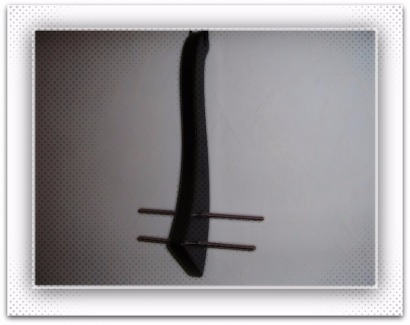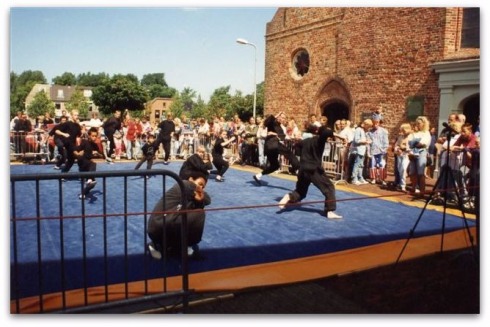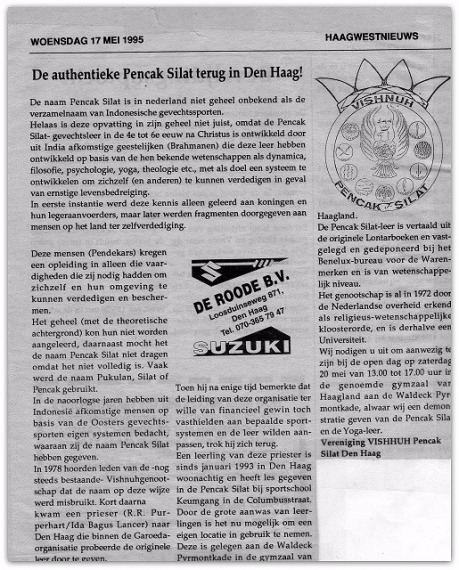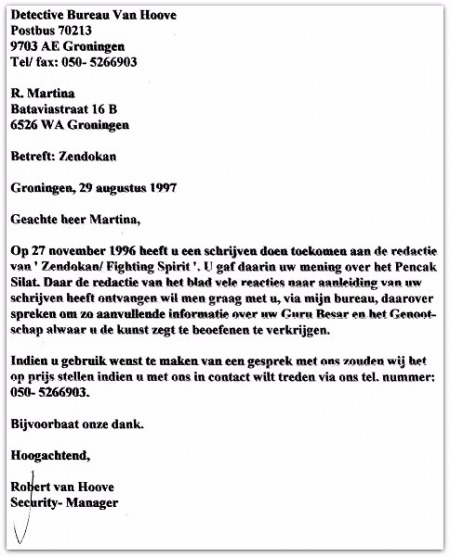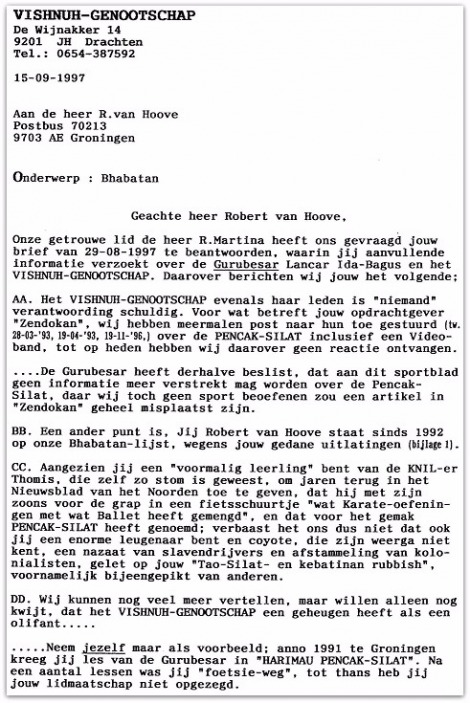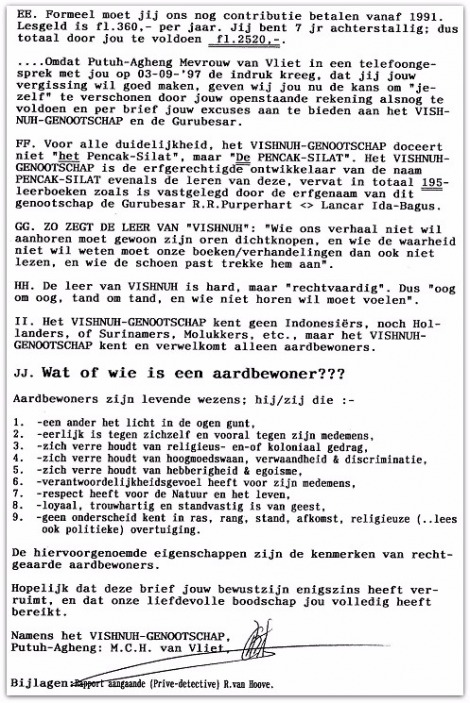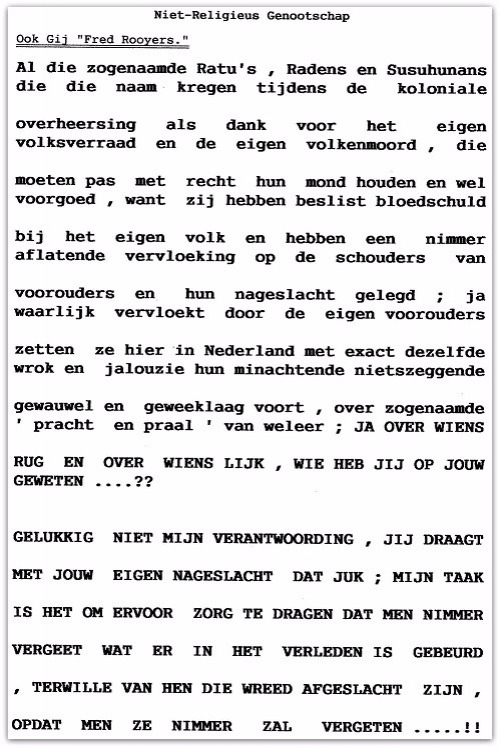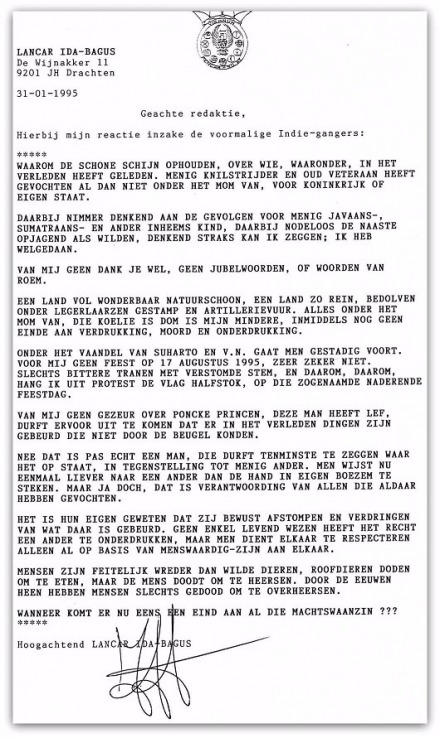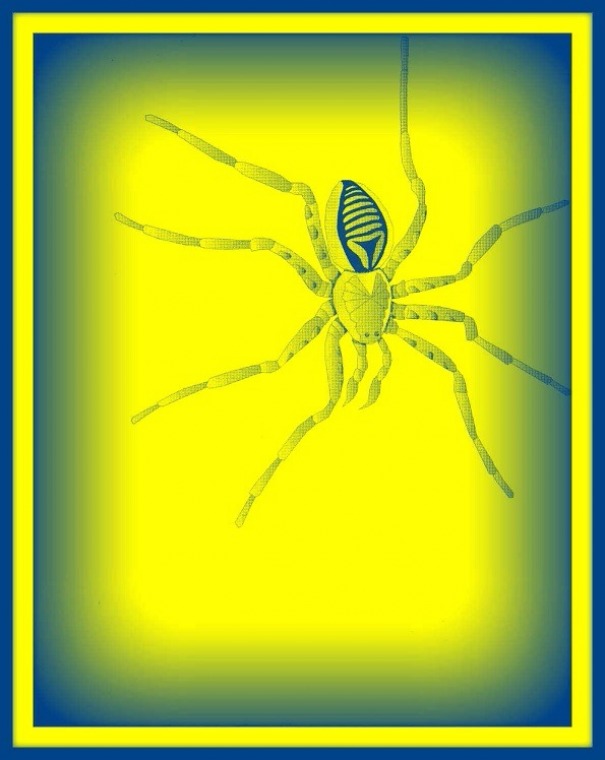 Really happened
  The following photos were taken at the time of real action and response.
For example, once in Dokkum during a Pencak-Silat demonstration by the Vishnuh Society Putuh R. de Frêtes was brutally attacked by a youngster of a local Pukulan group there.
  As you can see in the photo, the opponent was knocked out by a Putuh and could not go any further.
This is the result of disregard for the Vishnuh-Society and its members by interested Indos and Indonesian sports masters who, because of their deep-rooted cowardice, fearfully remained in the background.
… They have sent their unthinking disciples to us, who also fell for it.
The young man who is lying on the floor in an unhappy position in the photo and could no longer move a fin will certainly recognize himself when he sees these photos again. And this in the presence of a large audience who will remember this day like yesterday.
Thus again, "Pencak-Silat is not a sport. We prefer to avoid a confrontation, but we step aside for nothing and for nobody.
The rights of these photos lie with the Vishnuh-Society because the young man who received a beating attacked a member of us within our premises.
This young man attacked us completely convinced of the lies by his Indo-supporters.
"The agitator could have thought better and should not have let himself be strained for someone else's cart.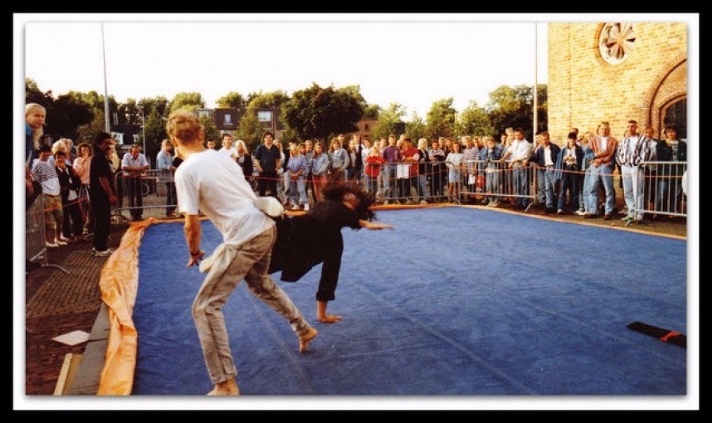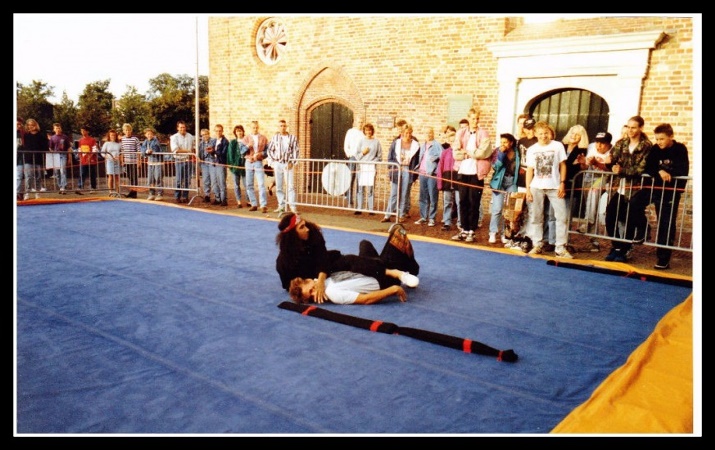 * Official notice: to anyone who concerns this.
Anyone who has consciously opposed the Vishnuh-Society and our Gurubesar in recent times will perish from self-destruction.
   The Vishnuh-Society advises all malicious persons who have been guilty of this and other underhanded behavior in relation to one or more of its members … "Go Death or Bon voyage et long return )! "
  For those who do not understand this message or do not want to understand, it also facilitates their own demise.
… Nebiru will not let anything go by without impunity, because nothing escapes them either since it has a memory like an elephant.
… Nebiru's retaliatory acts always practice justice, in accordance with the prevailing laws of nature.
It is below all levels and very base to blame, crumble or undermine fellow men on the basis of selfishness and envy in his goals using calibrated foreknowledge, knowing that "He" Gurubesar Lancar Ida-Bagus is silent as the grave because of his bondage obligation to remain silent towards our community.
The Gurubesar is, apart from its supporters, not accountable to anyone else.
It is therefore humanly fairly normal for measures to be taken in the event of misconduct against one of us.
Everyone gets his / her share. If it does not happen today, this will happen tomorrow, yesterday's day is far from over for the offenders.
Pay attention; in general, people do a lot out of guilt, and it is usually the greatest racists who adopt foreign kids or who are fully committed to Africa or to other so-called charities in third world countries or who are allegedly tolerant and sweet, to mislead the unsuspecting public but in the meantime, those in need are pushing a God and religion down their throat.
… These are often people and organizations that must be constantly monitored, not everyone is to blame for this, but most of them are!
Who in previous years, knowingly or at the instigation of an interested organization or designated individual, has acted unacceptably against our superior must then pay for the consequences and not complain as soon as reconsideration follows.
People and public authorities, who have somehow gone beyond all kinds of injustices against fellow human beings should not only enjoy the benefits of it, but they must also be consistent in accepting the consequences of their misconduct and criminality. towards another.
… Anyone who fits the shoe should wear it without regard for the person, because every living creature including King, Emperor, and Admiral, they are all mortal.
We, the members of the Vishnuh-Society worldwide, have the natural right, based on the moral right, to express our displeasure according to the truth of truth and justice.
… Know that those people who are selling something that they themselves don't adhere to at all should not expect to be taken seriously by us.
Malice will be rewarded with malice which will be done in accordance with the laws of nature, namely the wage to be received that is specifically intended for those who are greedy and unfair in spirit.
Our vindication statement is: "Anyone who doesn't give another person the light in their eyes will no longer have the right to live. God or Allah does not exist and neither does Satan!
 On behalf of the Vishnuh Society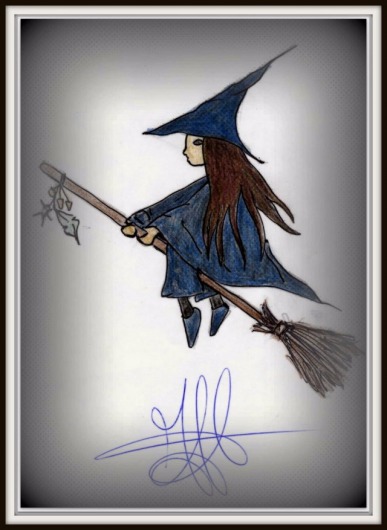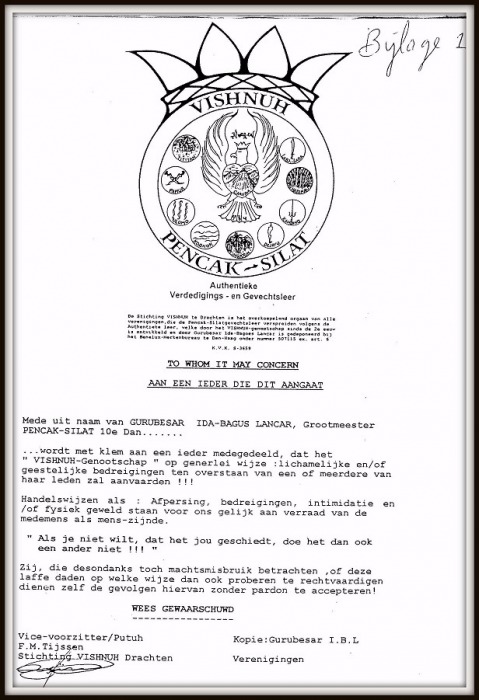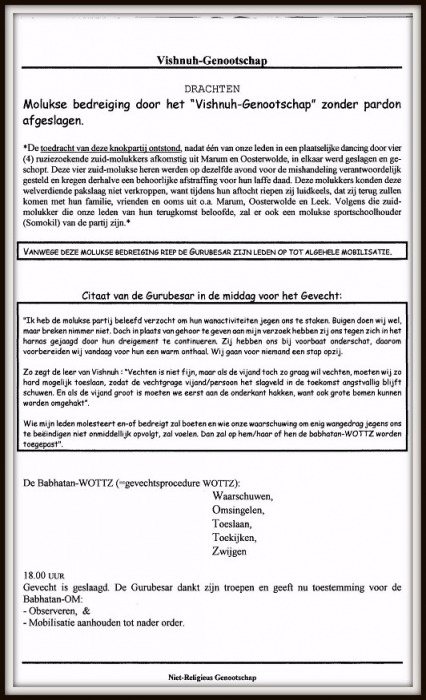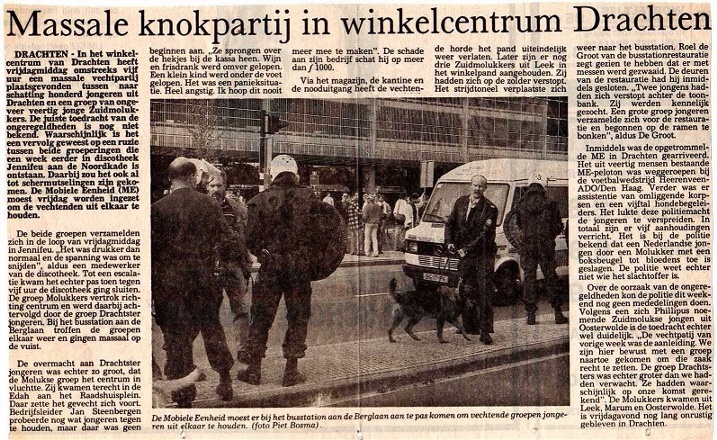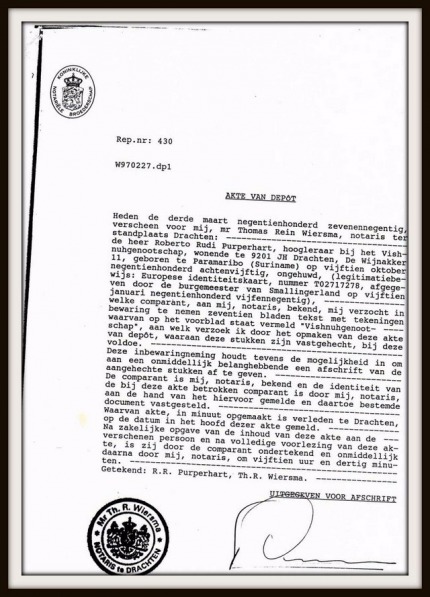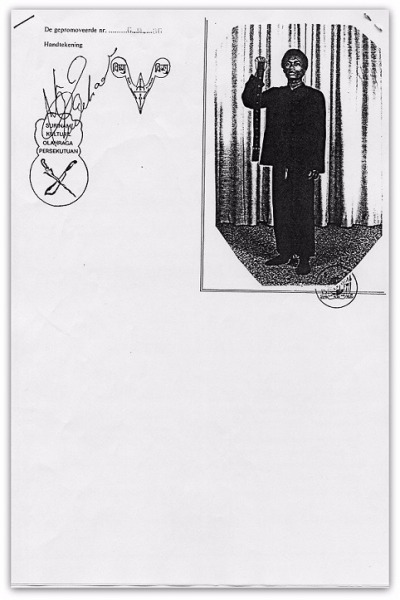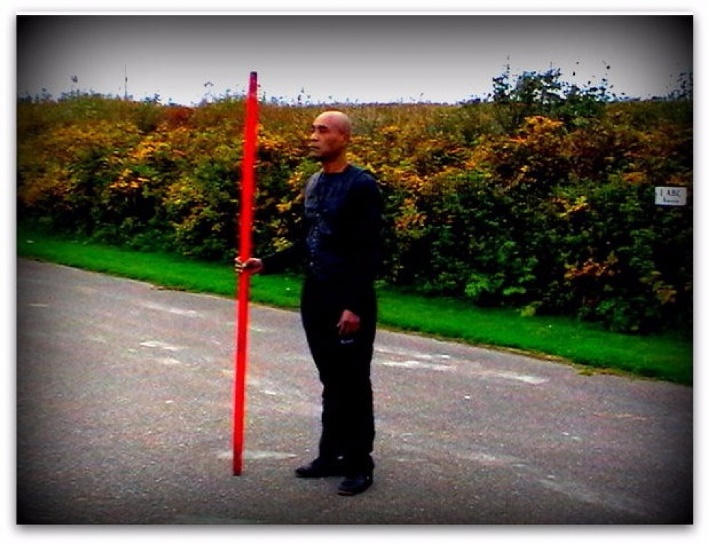 Keep your own ways and leave my ways to me, every person has the right to self-determination and self-preservation.
A HUMAN
  I am a person like everyone else;
Who are you that you think you can judge me;
You can afflict and violate my body, but you will never break my mind;
I certainly decide for myself what is good for me or not; if I fall .. okay then I fall but I get up just like that;
I have the right to live as a human being the way I want to because as an individual I have the right to self-determination and self-preservation;
Let me show my self-esteem, then I will let you … yours, as far as you still have it;
But I don't just let my enemies run away anymore, because the time of the past has already been;
I will never let them commit again and under no circumstances will I let them go unpunished, after what they have done to me with their friends.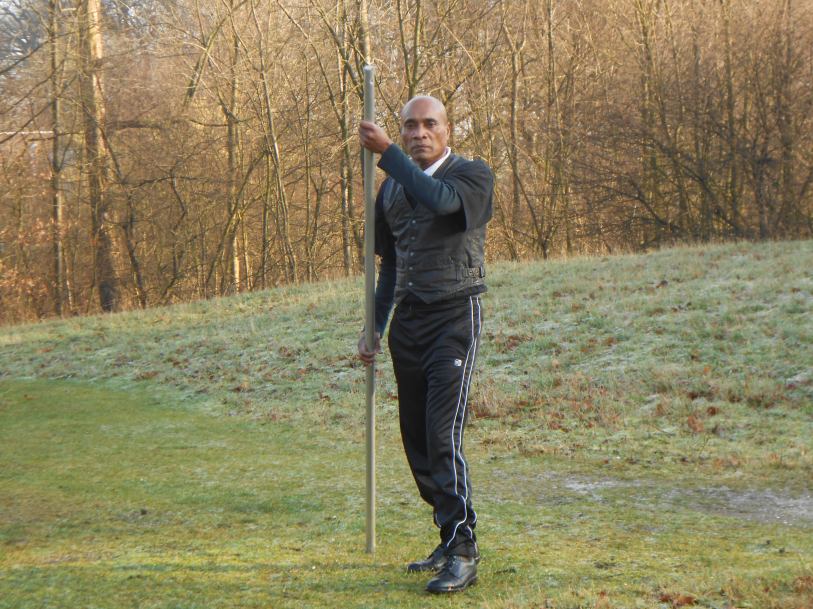 All rights reserved. No part of this publication may be repro­du­ced, stored in a retrieval system, or transmitted in any form by means, electronic, mechanical, photocopying, recording or otherwise, without the written permission of the publisher.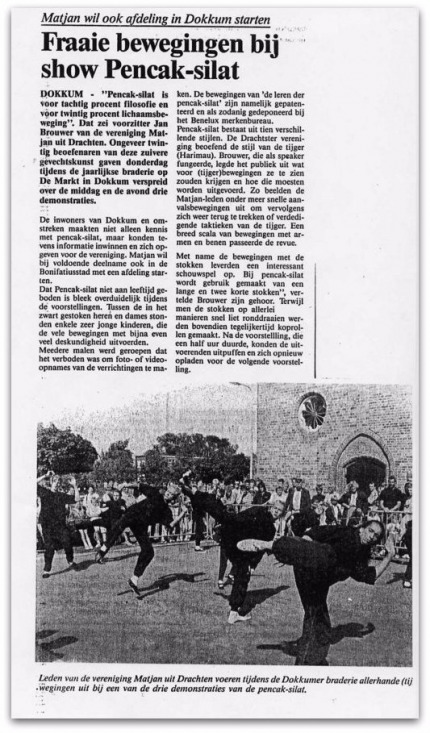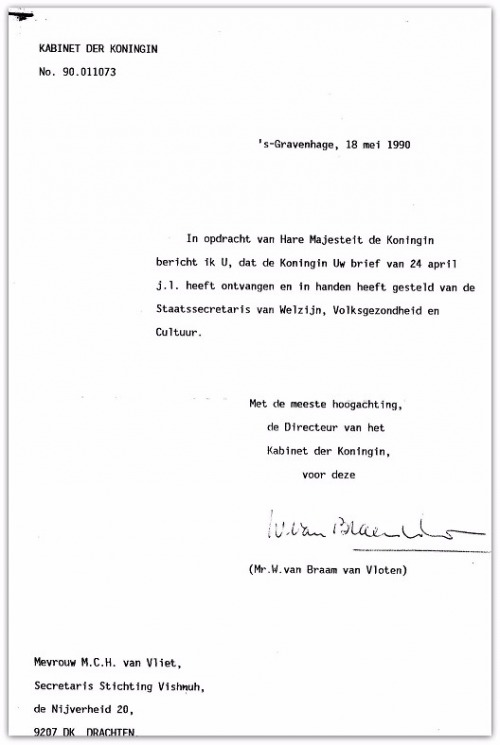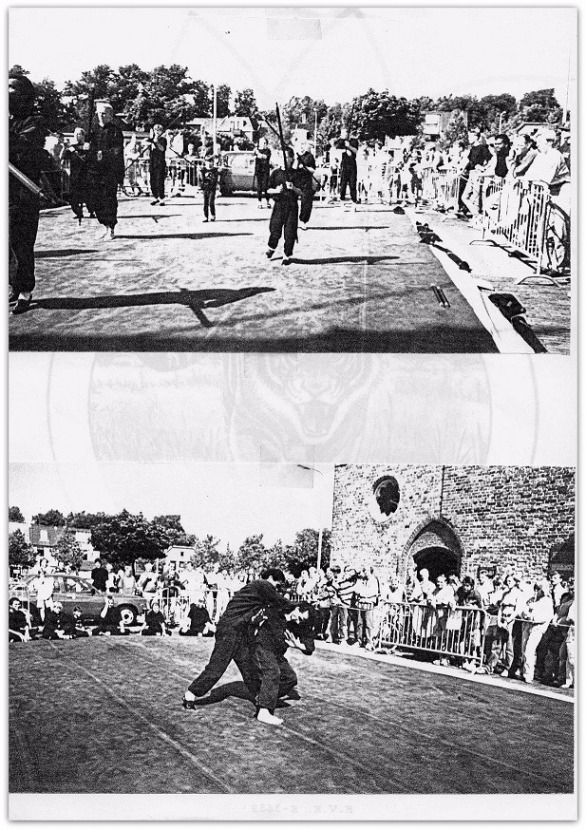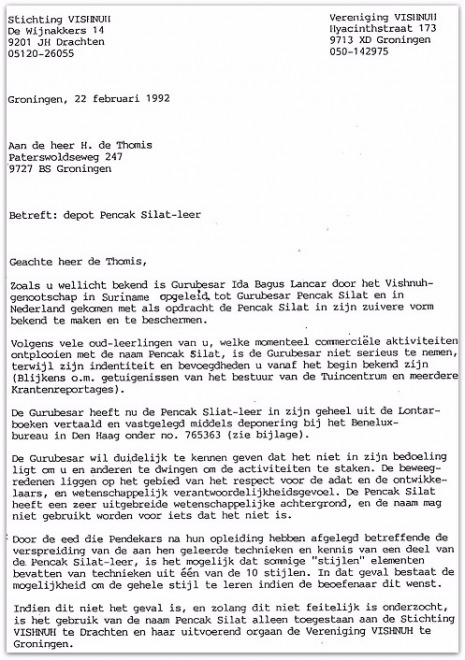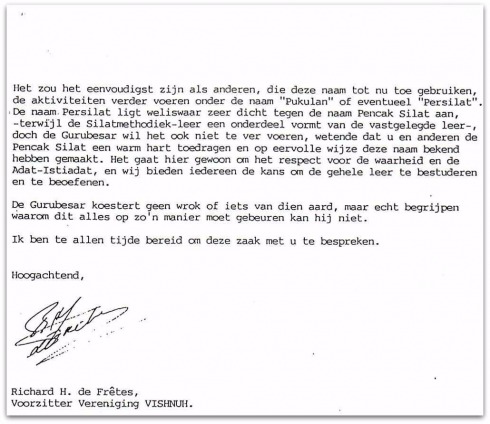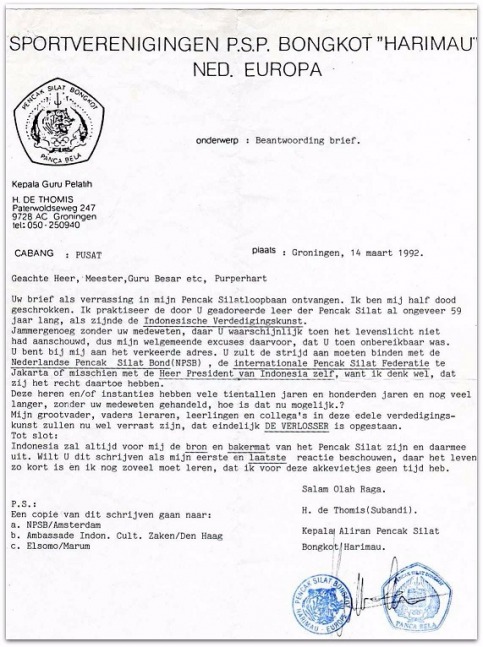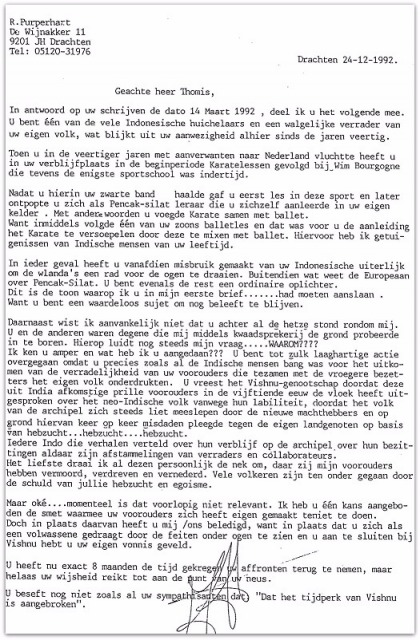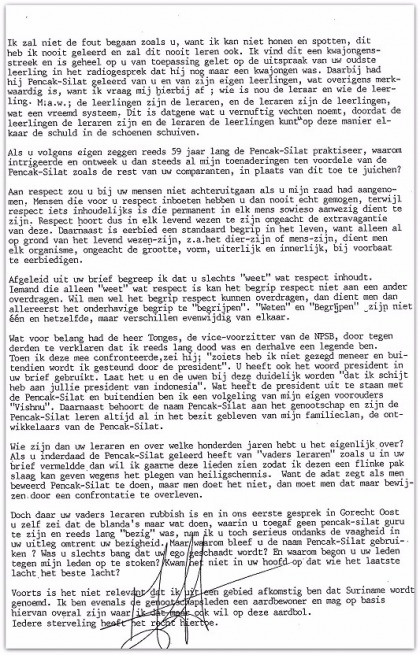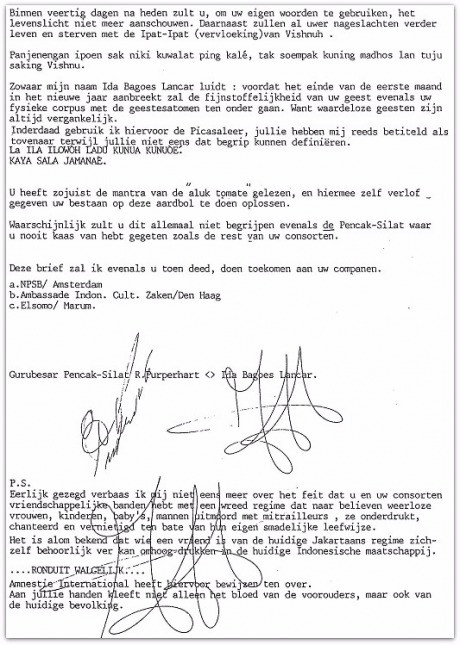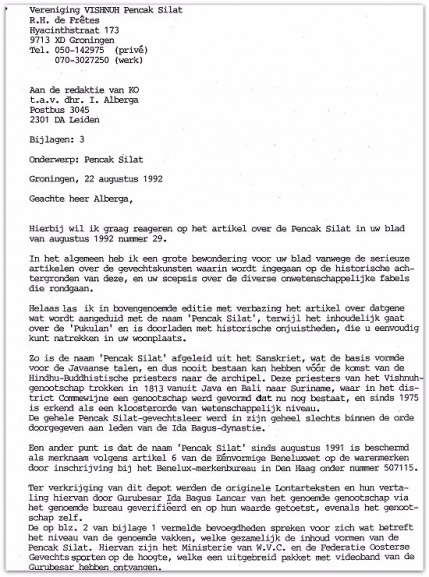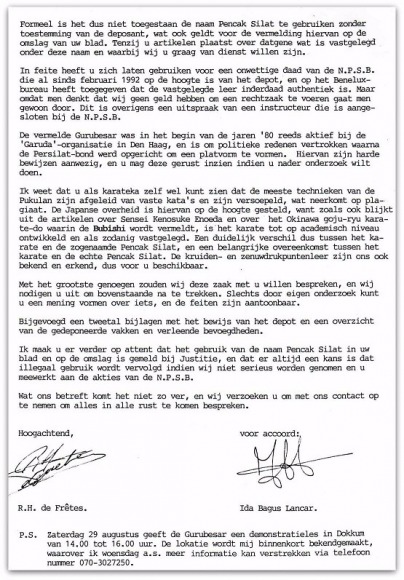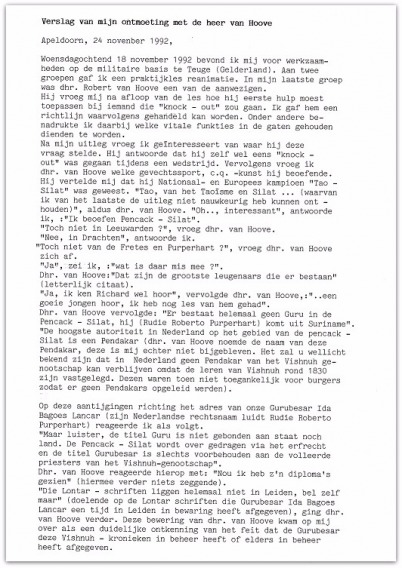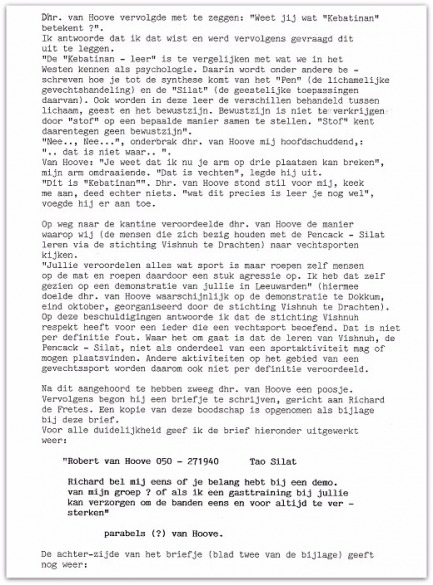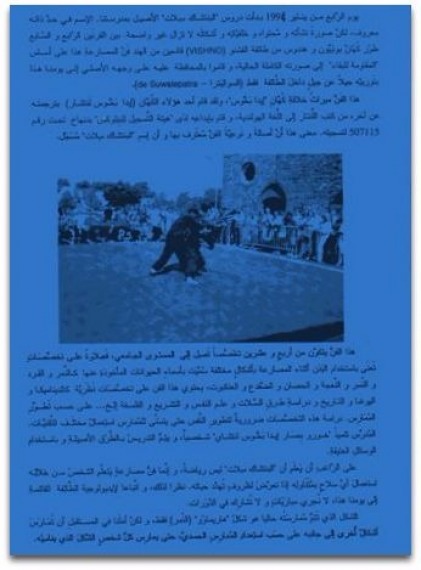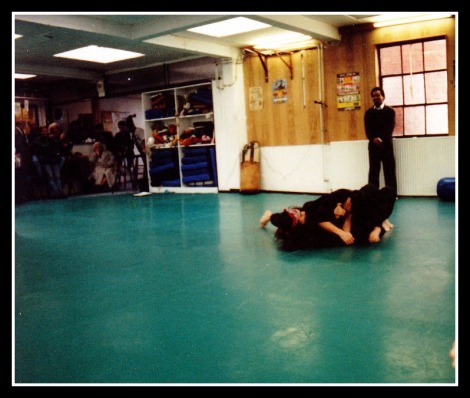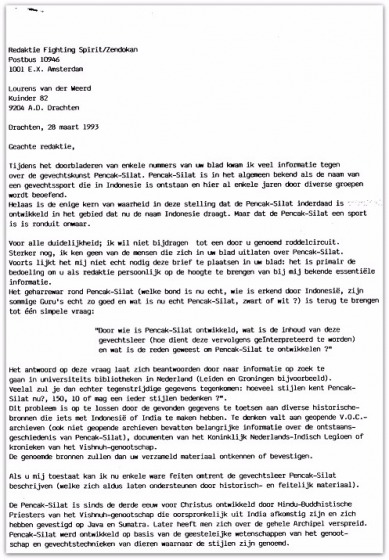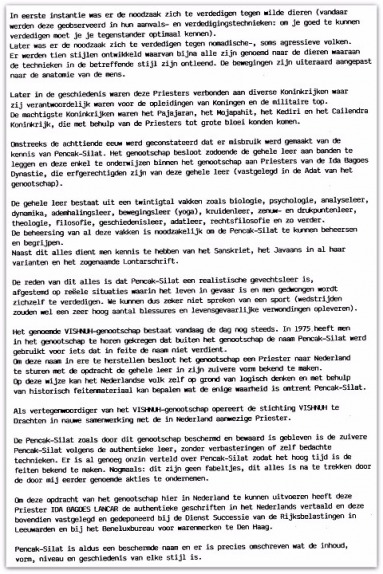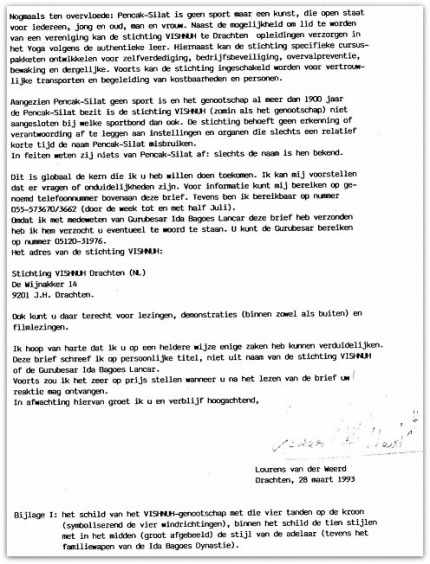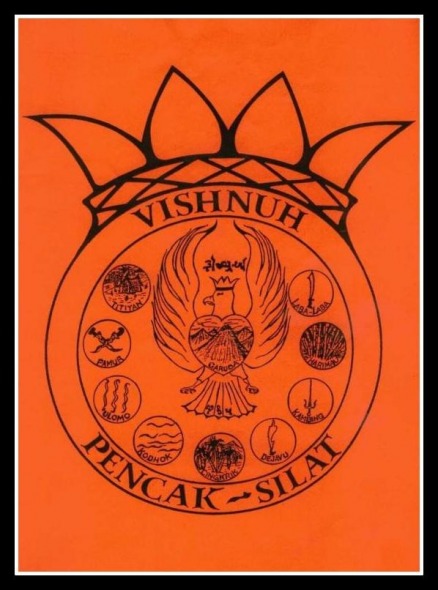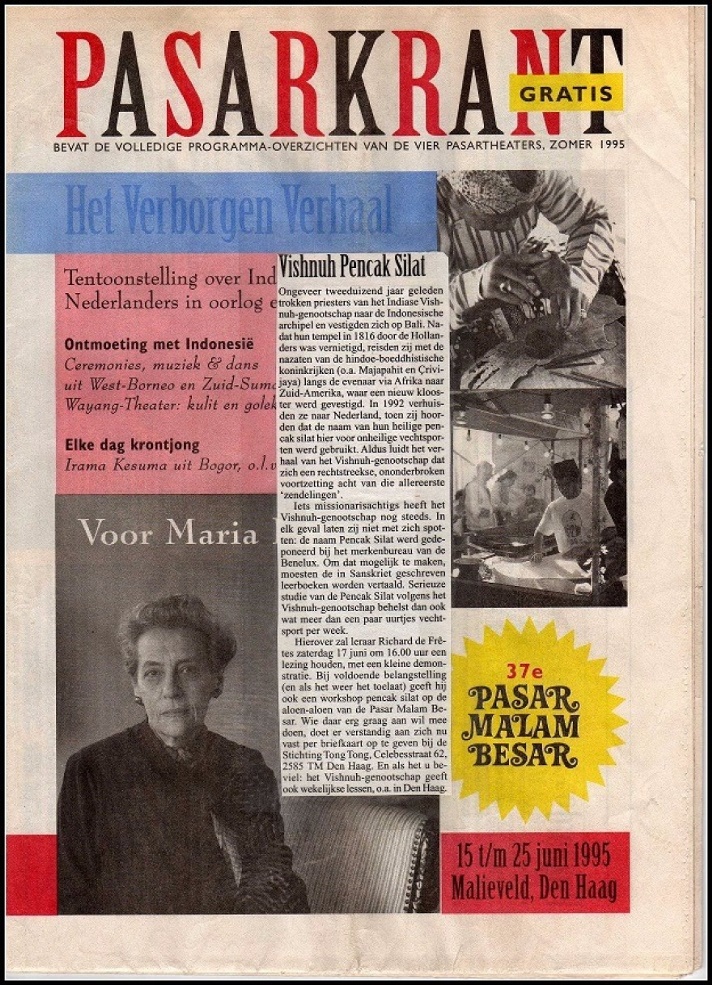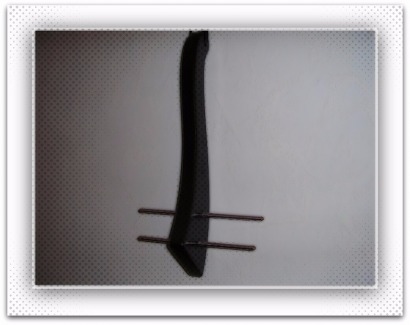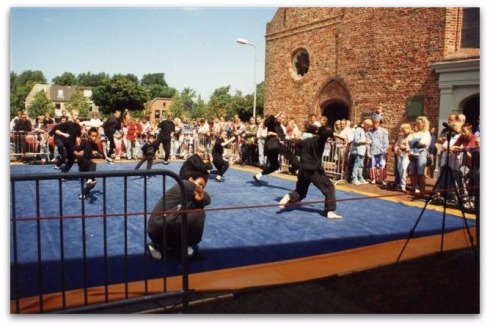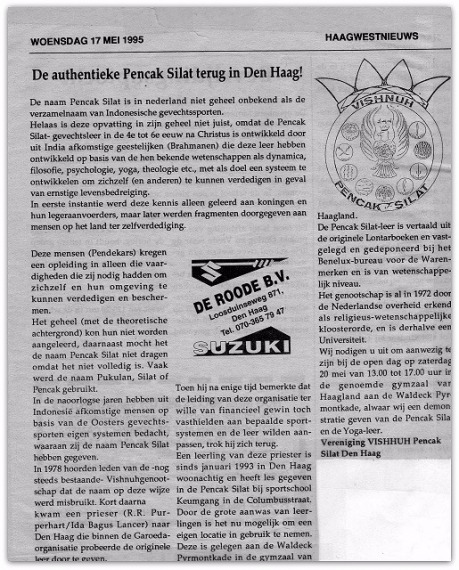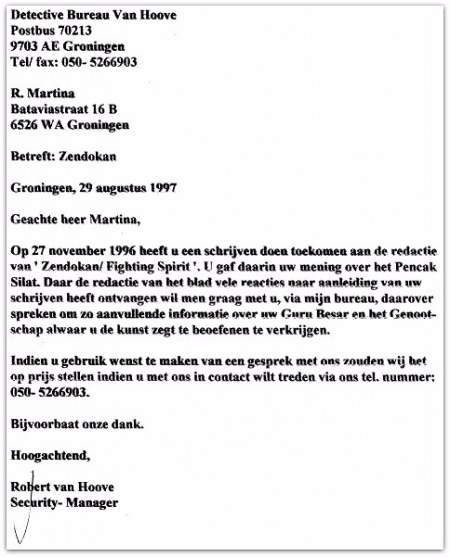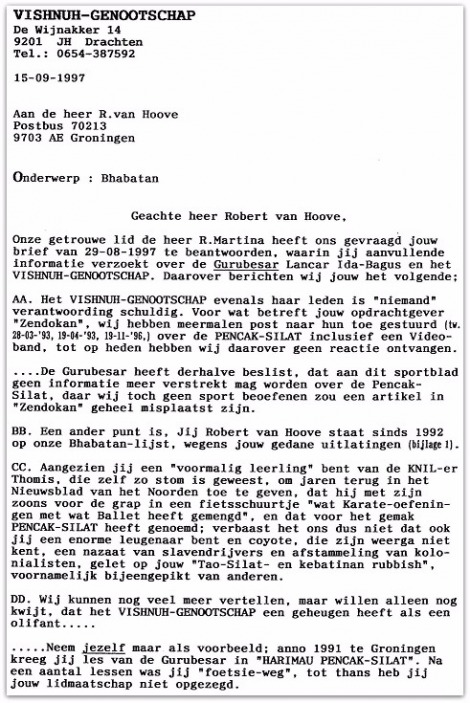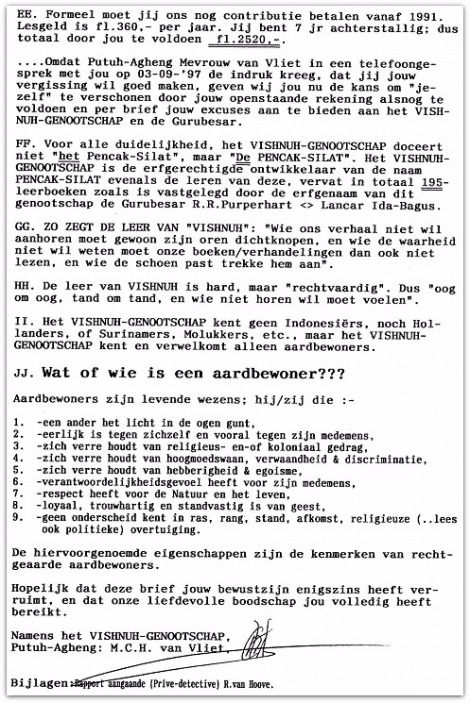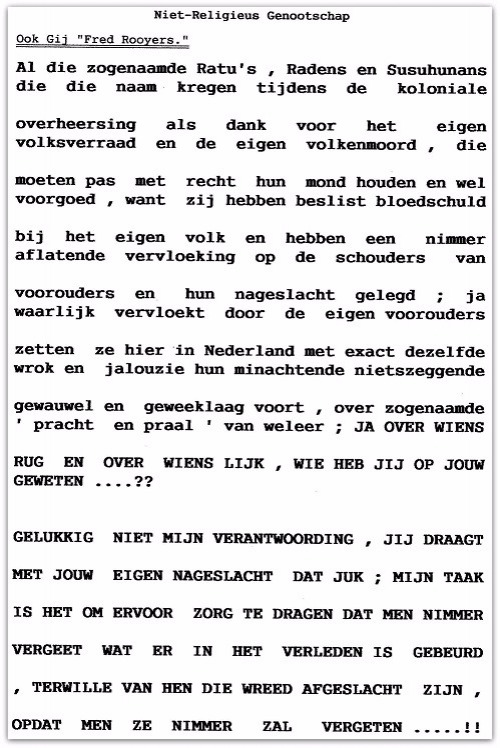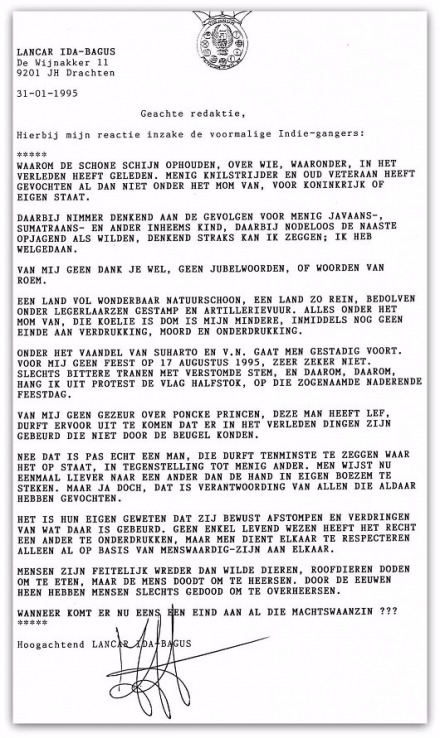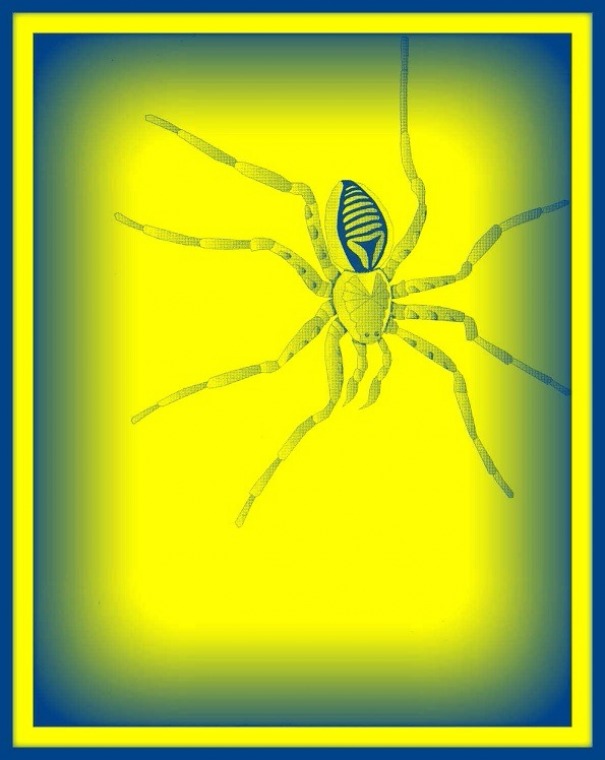 Echt gebeurd
 De volgende foto's zijn gemaakt op het moment van een echte actie en reactie. Zo werd eens in Dokkum tijdens een Pencak-Silat demonstratie door het Vishnuh-Genootschap Putuh R. de Frêtes brutaal aangevallen door een jongeling van een Pukulan groepering aldaar.
 Zoals u ziet op de foto, werd de tegenstander zonder omhaal gevloerd door een Putuh en kon geen kant meer op. Dit is het gevolg van geringschatting en hetze tegen het Vishnuh-Genootschap en haar leden door belanghebbende Indo's en Indonesische sportmeesters, die vanwege hun diepgewortelde lafheid angstvallig op de achtergrond bleven, maar hun onnadenkende leerlingen op ons afstuurden, die hier ook heilig in trapten.
 De jongeman die op de foto in een ongelukkige houding op de grond ligt en geen vin meer kon verroeren zal zichzelf wel zeker herkennen wanneer hij deze foto's terug ziet. En dit in het bijzijn van een hoop publiek dat zich deze dag nog als de dag van gisteren zal herinneren.
Aldus nogmaals, "Pencak-Silat is geen sport. Wij vermijden het liefste een confrontatie, maar we gaan voor niets en voor niemand een stap opzij.
De rechten van deze foto's liggen bij het Vishnuh-Genootschap daar de jongeman die een pak-rammel kreeg een lid van ons aanviel binnen ons terrein. Deze jongeman viel ons aan geheel overtuigd van de leugens door zijn Indo-achterban." De agitator had beter na kunnen denken en zich niet voor andermans karretje moeten laten spannen.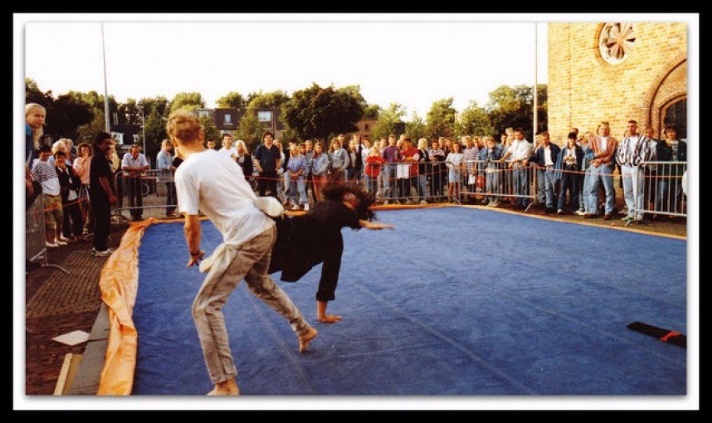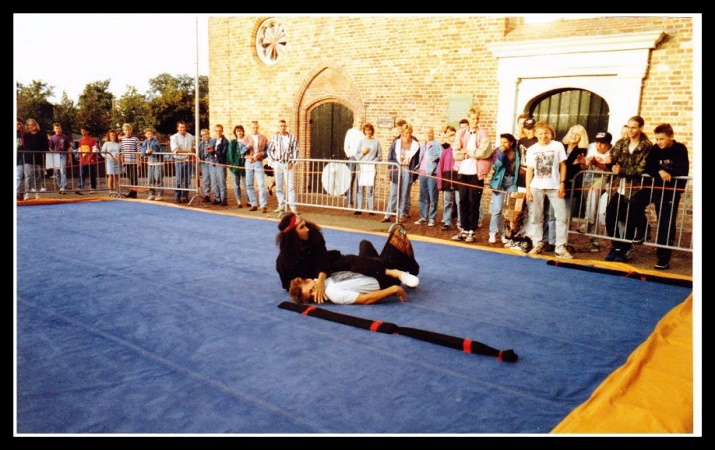 *Officiële mededeling: aan een ieder die dit aangaat. 
Wie het Vishnuh-Genootschap en onze Gurubesar in de afgelopen tijd bewust heeft tegengewerkt zal aan zelfdestructie ten onder gaan.
 Het Vishnuh-Genootschap adviseert alle kwaadwillenden, die ten opzichte van haar lid of leden zich schuldig hebben gemaakt aan hetze en ander achterbaks gedrag, bij deze het volgende…"Ga Dood of  Bon voyage et long retour (Ga heen en kom nooit meer terug)!"
Voor wie deze boodschap niet begrijpt of niet wil begrijpen vergemakkelijkt zijn eigen teloorgang door "Nebiru", die op alles te recht niets straffeloos voorbij zal laten gaan daar hem ook niets ontgaat, daar deze een geheugen heeft als een olifant. 
… Nebiru's  vergeldingshandelingen betrachten altijd rechtvaardigheid, overeenkomstig de allesoverheersende Natuurwetten. 
Het is beneden alle peil en zeer laaghartig om medemensen op grond van egoïsme en nijd te bekladden, te bekonkelen of te ondermijnen in zijn doelen met gebruikmaking van geijkte voorkennis, wetende dat "Hij" Gurubesar Lancar Ida-Bagus zwijgt als het graf vanwege zijn gebondenheid aan zwijgplicht ten opzichte van onze gemeenschap. Derhalve is "Hij", buiten zijn achterban verder aan niemand anders verantwoording schuldig.
Het is derhalve menselijkerwijs vrij normaal, dat bij wangedrag tegen één van ons represaille maatregelen zullen volgen, ieder krijgt zijn of haar deel, gebeurt het niet vandaag dan gebeurt dit morgen, de dag van gisteren is voor de overtreders nog lang niet voorbij.
Let op; in het algemeen doen mensen veel uit schuldgevoel, en het zijn meestal de grootste racisten die buitenlandse kids adopteren of zich volledig inzetten voor Afrika of voor andere zogenaamde goede doelen in derdewereldlanden of zogenaamd tolerant en lieflijk bezig zijn, om zodoende het argeloze publiek op een dwaalspoor te brengen, maar ondertussen worden de hulpbehoevenden een God en religie door de strot gedrukt. 
… Dit zijn vaak mensen en organisaties die permanent in de gaten moeten worden gehouden, niet iedereen is hier debet aan, maar het grootste deel wel!
Wie in voorgaande jaren welbewust of op instigatie van een belanghebbende organisatie of  daartoe aangewezen individu zich onacceptabel heeft gedragen tegen onze overste moet dan opdraaien voor de consequenties ervan en niet gaan zeuren zodra wedervergelding daar op zijn plaats is.
Lieden en overheidsinstanties, die zich op de een of andere manier te buiten zijn gegaan aan allerlei vormen van onrechtvaardigheden jegens medemensen dienen niet alleen te genieten van de profijten daarvan, maar moeten ook zo consequent zijn om de nasleep van hun misdragingen en misdadig leven tegenover de benadeelde zonder meer te accepteren. 
… Wie de schoen past trekke hem aan zonder aanzien des persoon, want "Koning(in)" "Keizer" "Admiraal" sterfelijk zijn ze allemaal.
Wij, leden van het Vishnuh-Genootschap wereldwijd, hebben op basis van het morele recht het natuurlijke recht om onze ongenoegen te doen blijken volgens recht naar waarheid en rechtvaardigheid. 
… Weet, dat zij die medemensen iets verkopen waar ze zelf zich totaal niet aan houden moeten niet verwachten door ons serieus te zullen worden genomen. Kwaadaardigheid zal met kwaadaardigheid worden vergolden welke zal geschieden overeenkomstig de Natuurwetten, te weten
het te ontvangen loon speciaal bedoeld voor hen die hebzuchtig en oneerlijk zijn van geest.
Onze vindicatiestelling luidt; "wie een ander het licht in de ogen niet gunt heeft ook geen recht meer van leven. God c.q. Allah bestaat niet en Satan evenmin!
 Namens het Vishnuh-Genootschap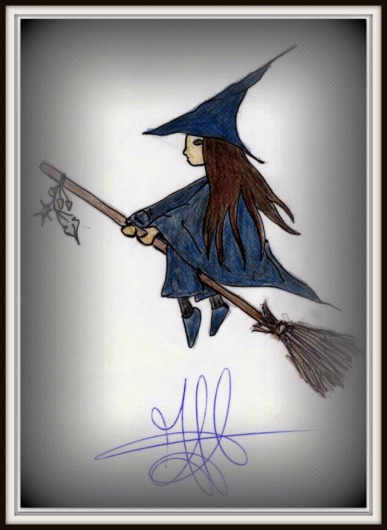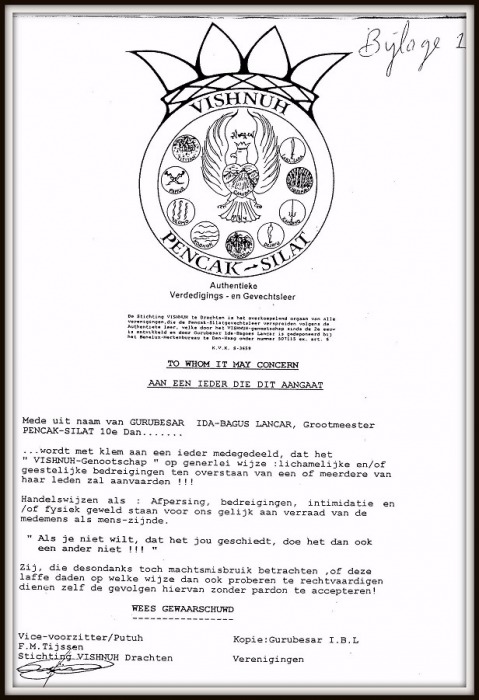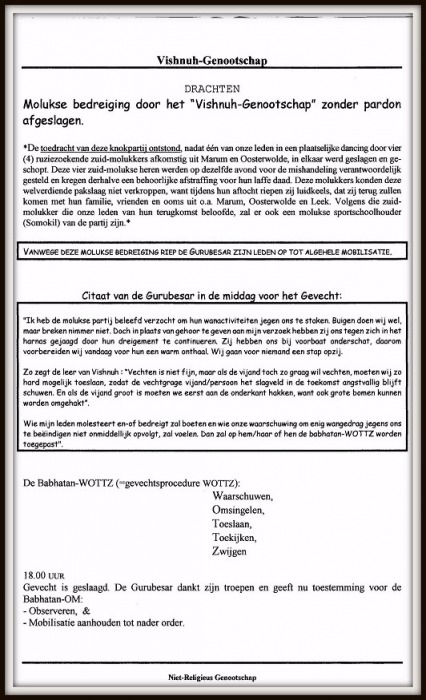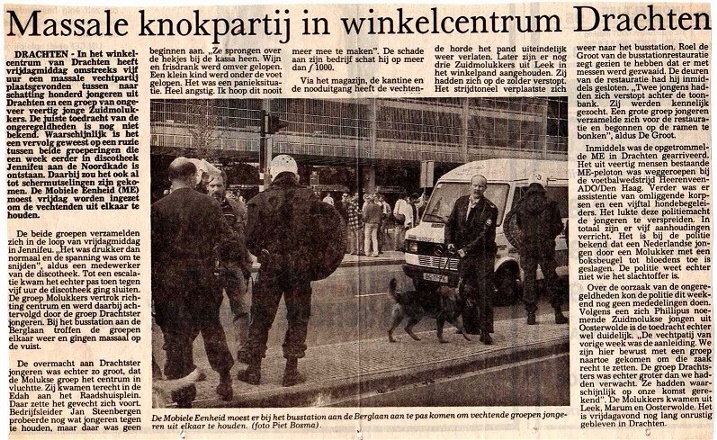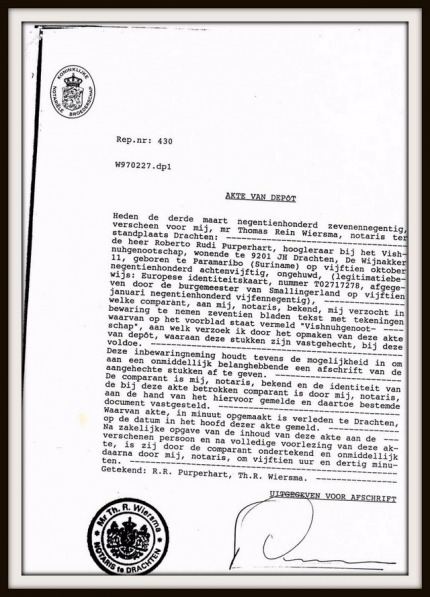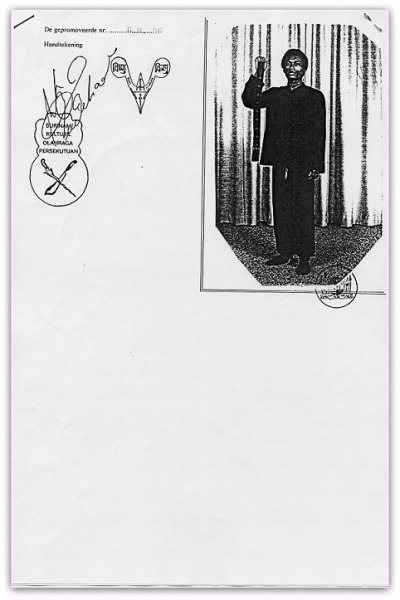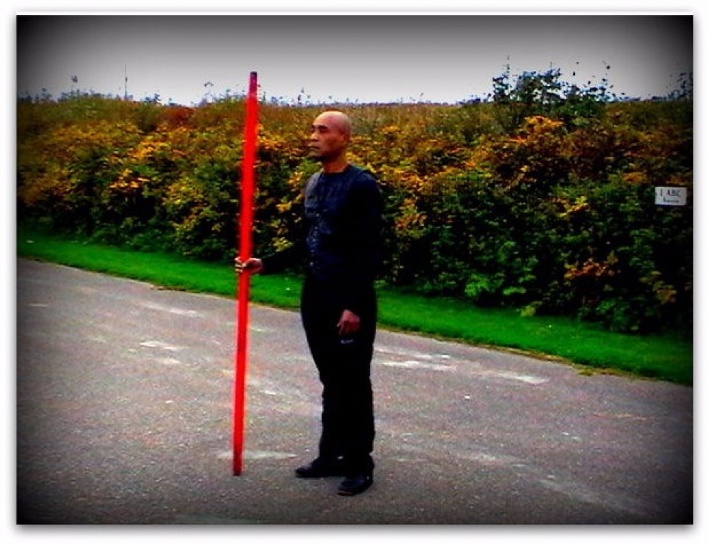 Behoud uw eigen manieren en laat mijn manieren aan mij, ieder mens heeft recht van zelfbeschikking en zelfbehoud.
EEN MENS
 Ik ben een mens gelijk als ieder ander;
Wie bent u dat u denkt mij te kunnen beoordelen;
Mijn lichaam kunt u teisteren en schenden, maar nooit zult u breken mijn geest;
Ik maak toch zeker zelf wel uit wat al dan niet goed voor mij is; als ik val .. oké dan val ik maar opstaan doe ik evenzo;
Ik heb het recht als mens zijnde te leven zoals ik dat wil, want als individu heb ik recht op zelfbeschikking en zelfbehoud;
Laat mij mijn zelfrespect dan laat ik u …..de Uwe, voor zover u die nog heeft;
Maar ik laat mijn vijanden niet zomaar meer weglopen, de tijd van toen is al geweest;
Ik laat ze nooit meer begaan noch onder geen beding zomaar ongestraft heengaan, na wat zij met hun vrienden mij allemaal hebben aangedaan.