© All rights reserved. No part of this publication may be repro­du­ced, stored in a retrieval system, or transmitted in any form by means, electronic, mechanical, photocopying, recording or otherwise, without the written permission of the publisher.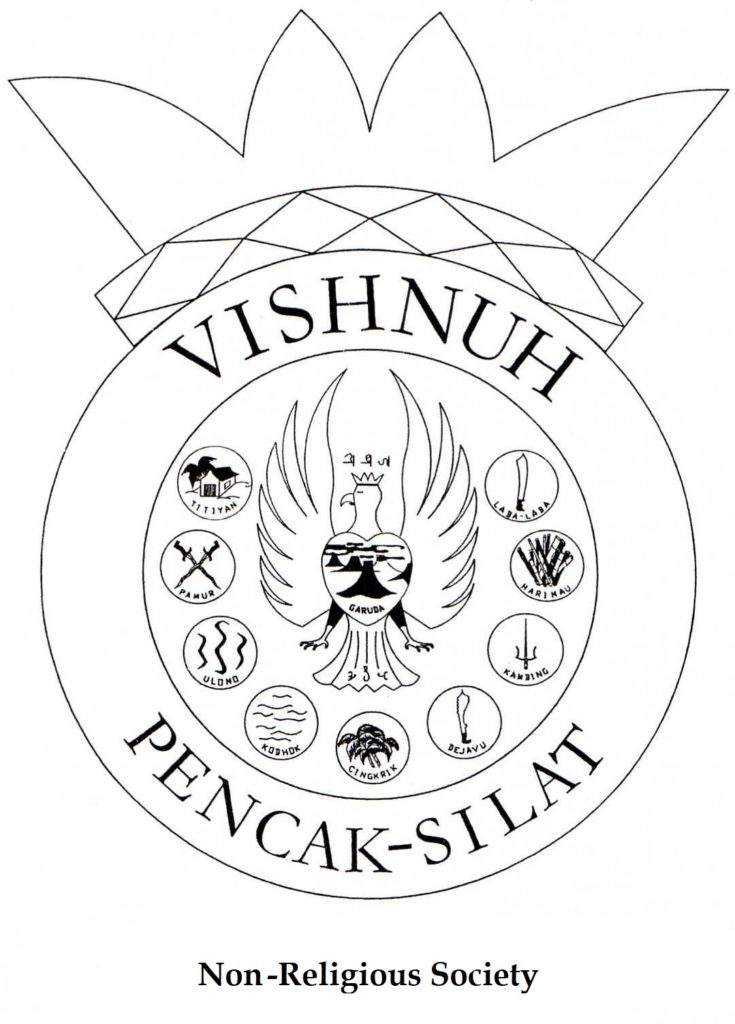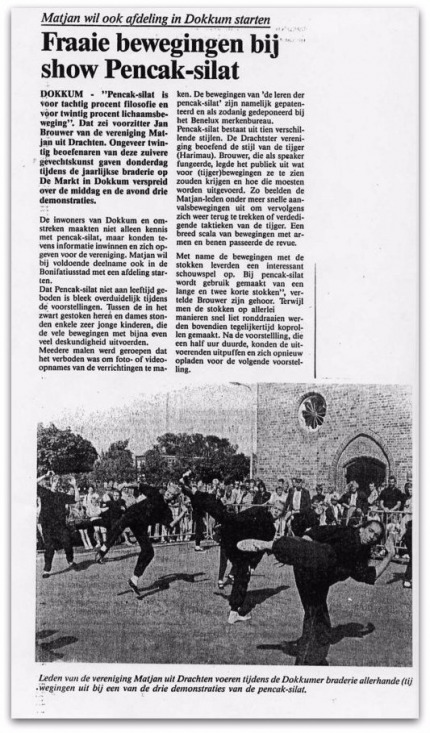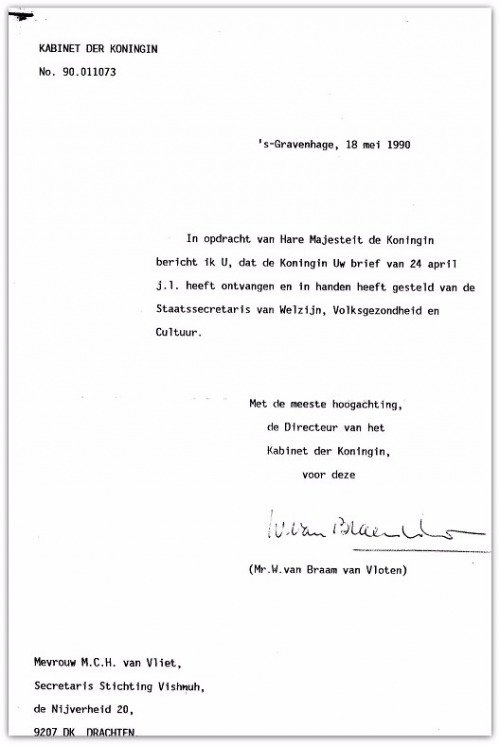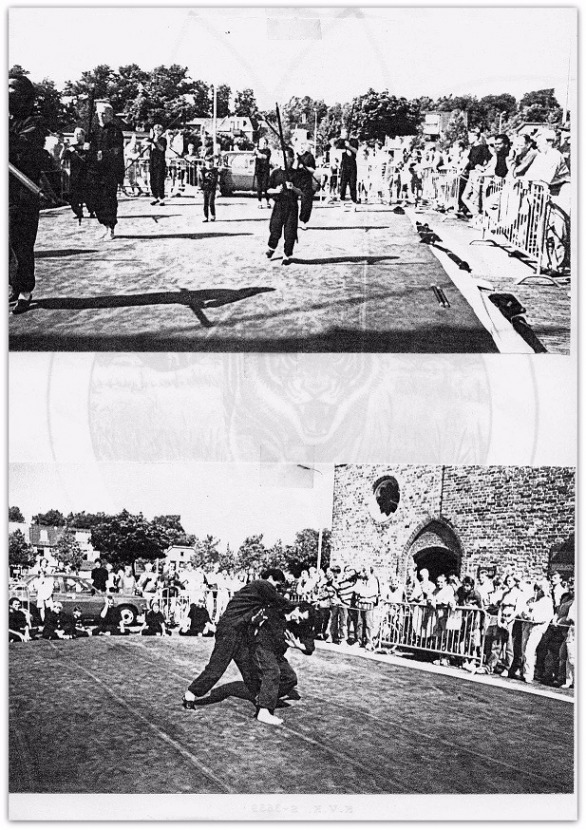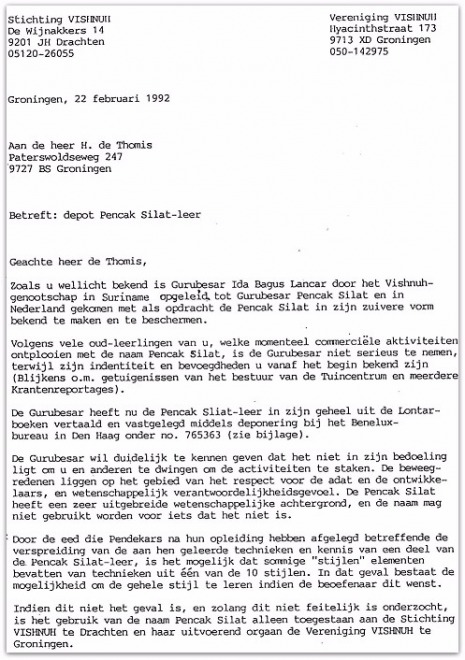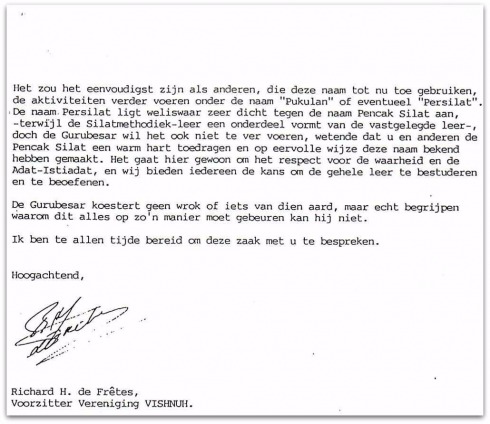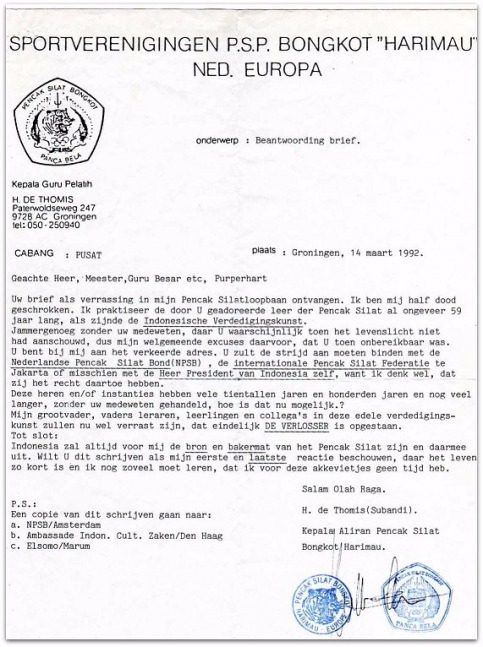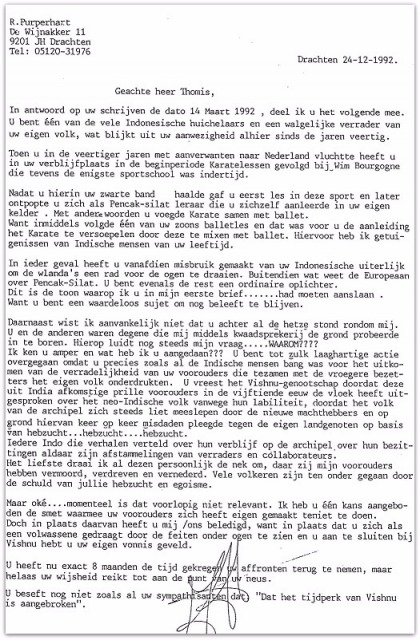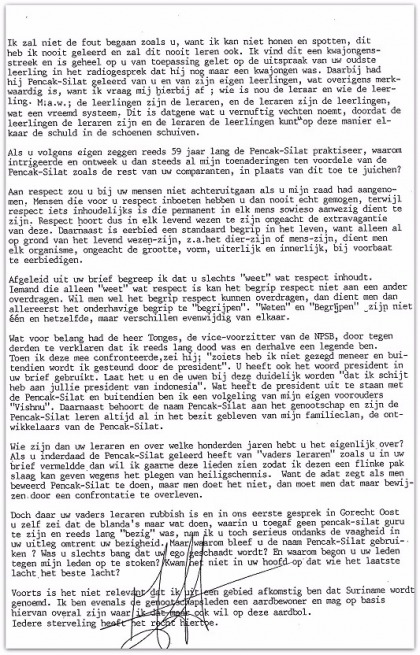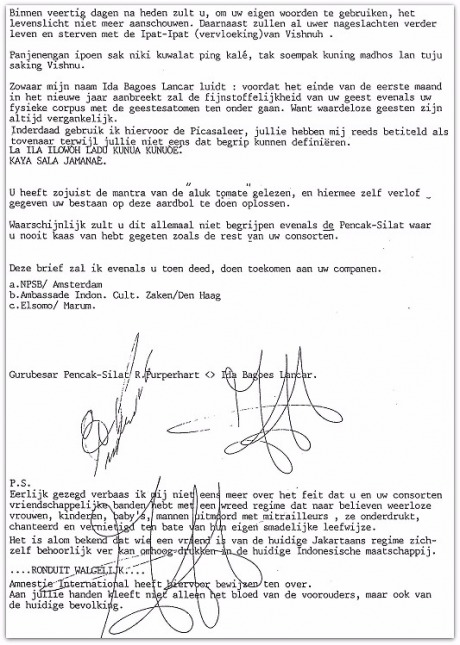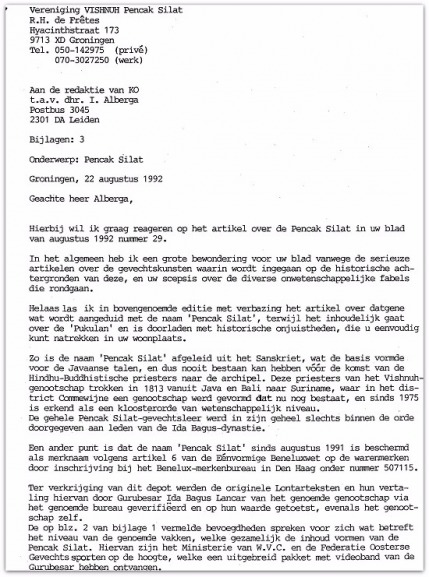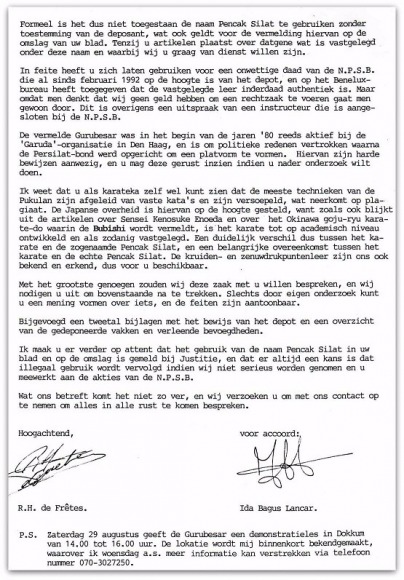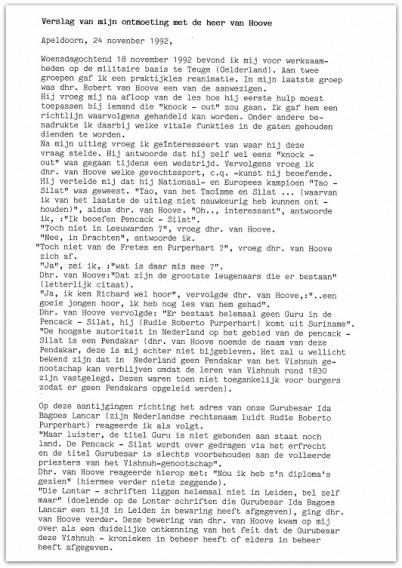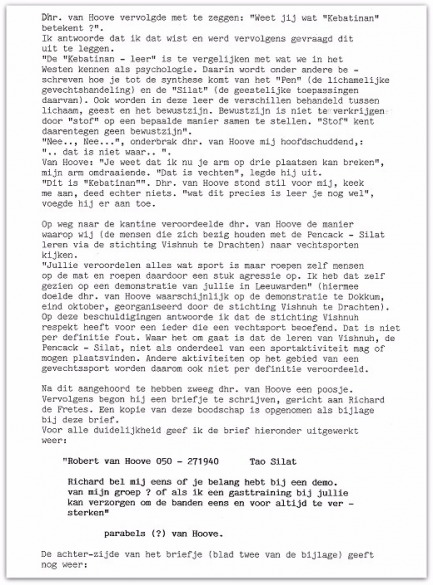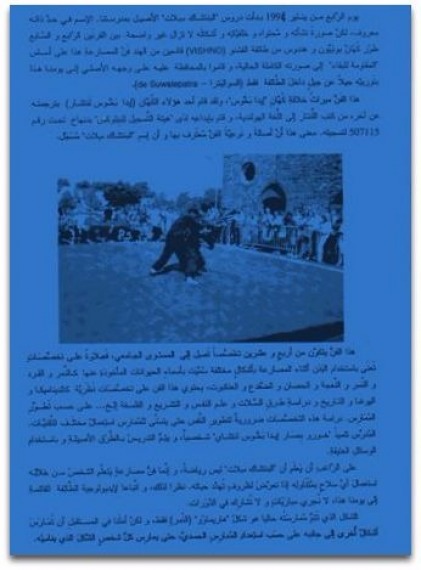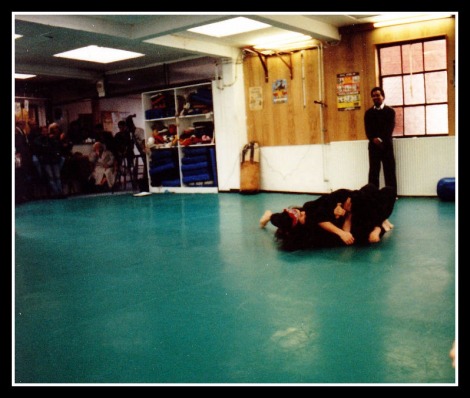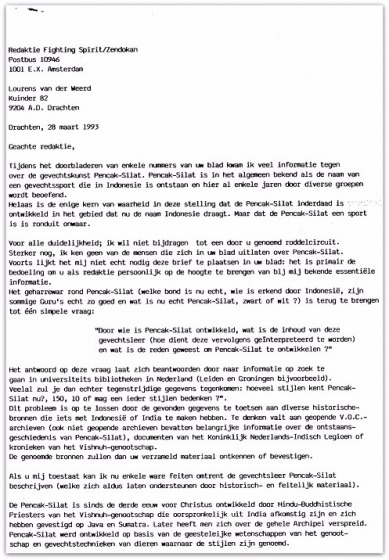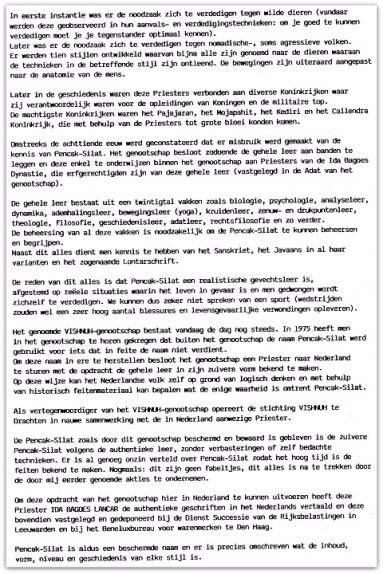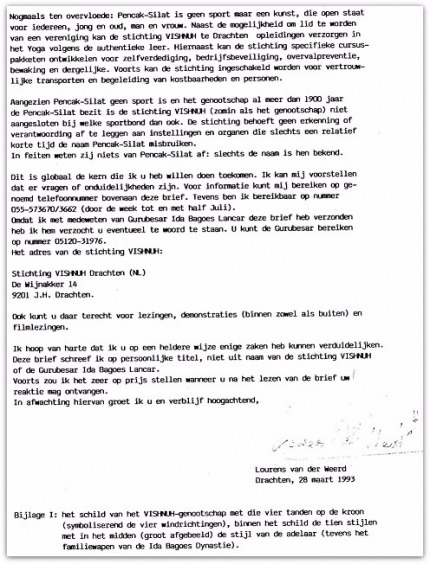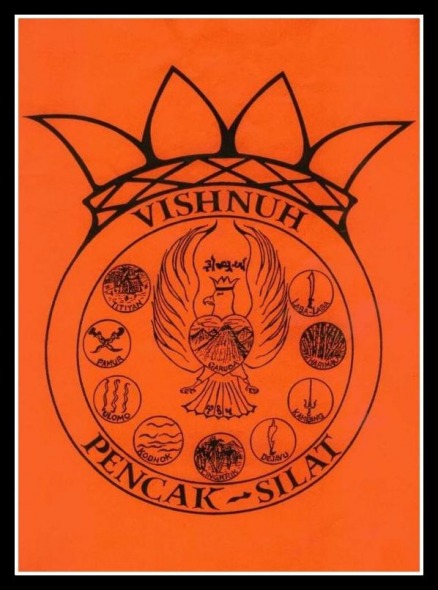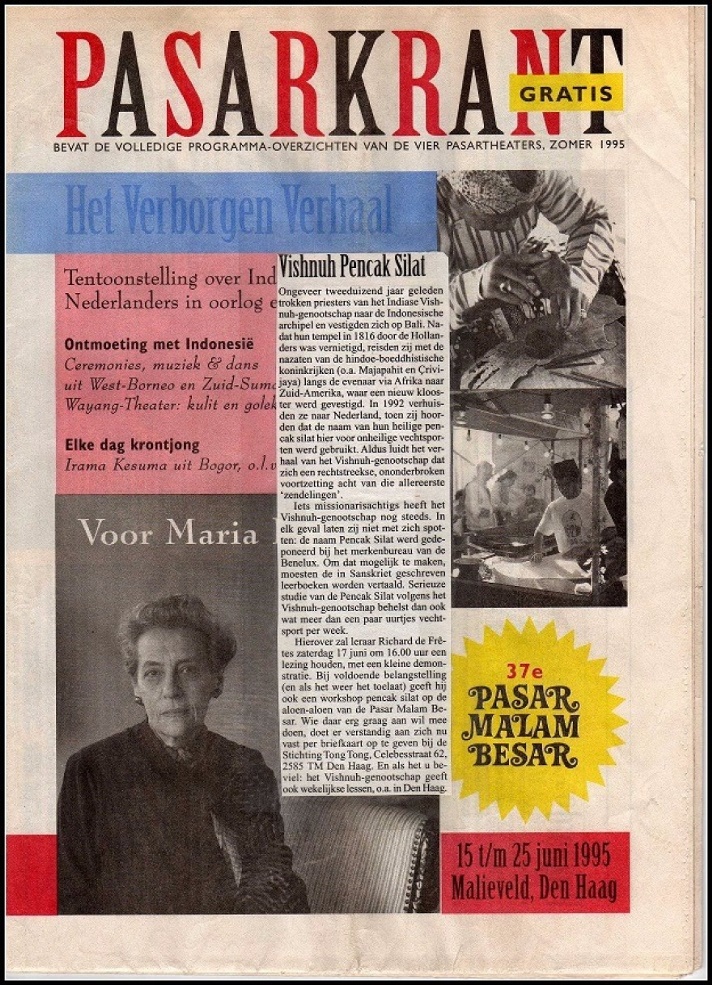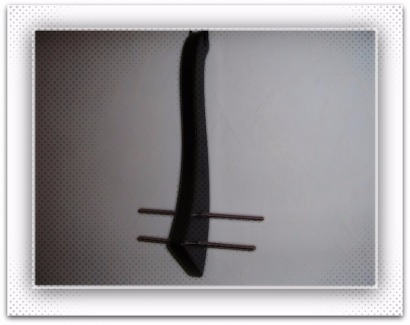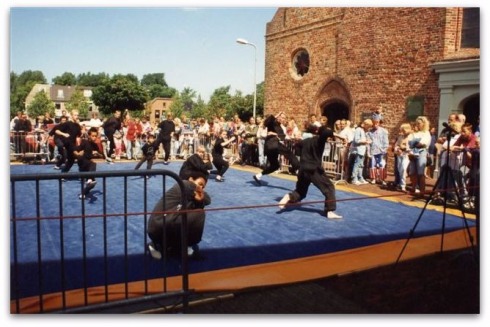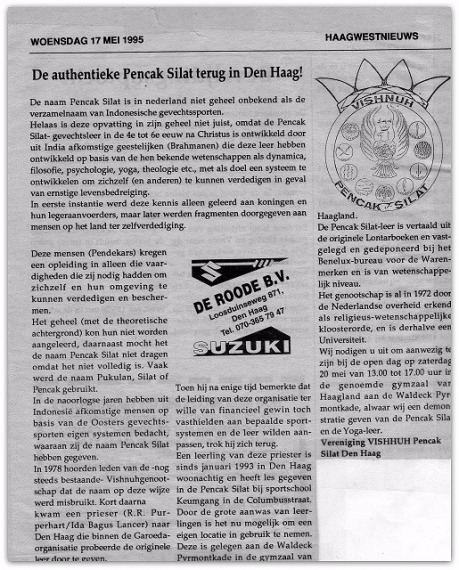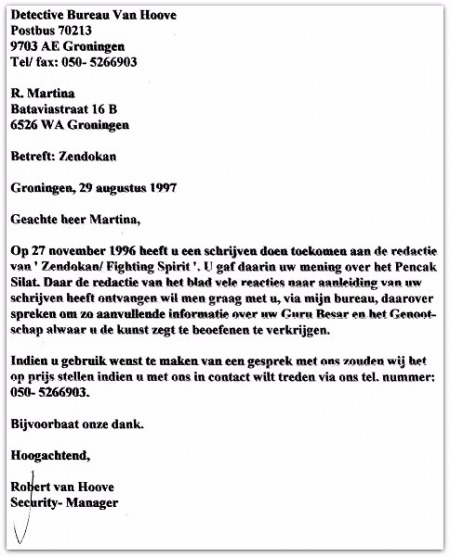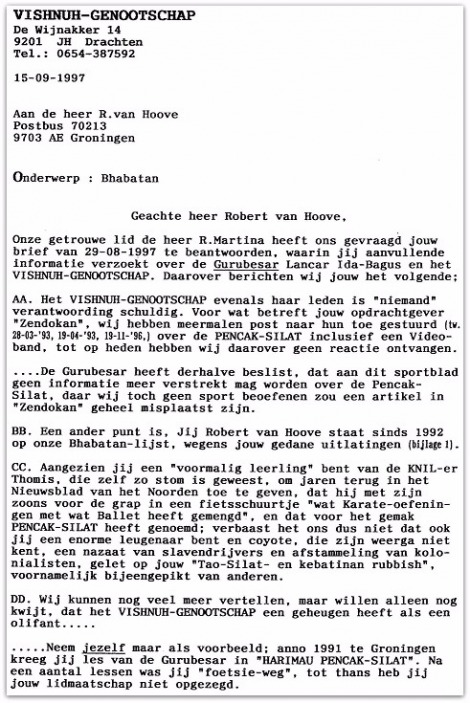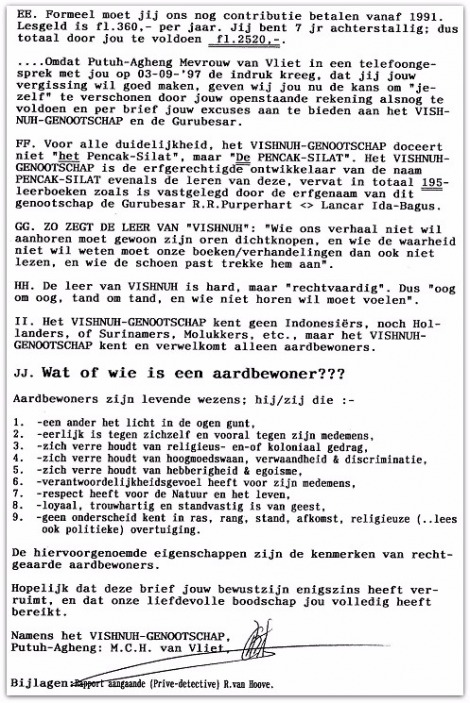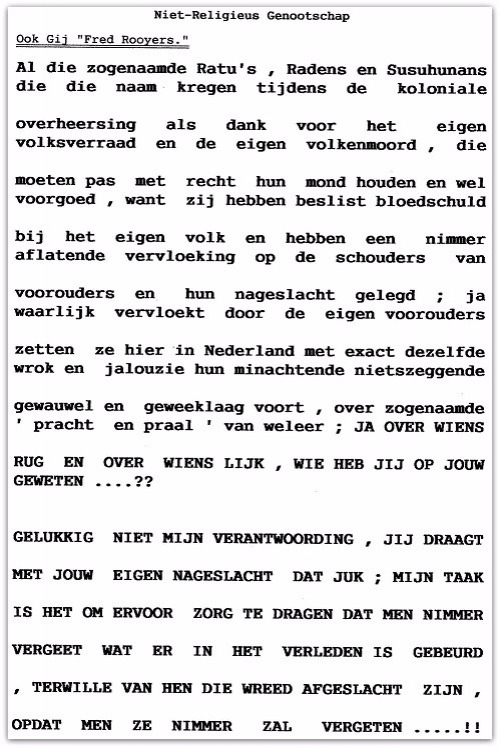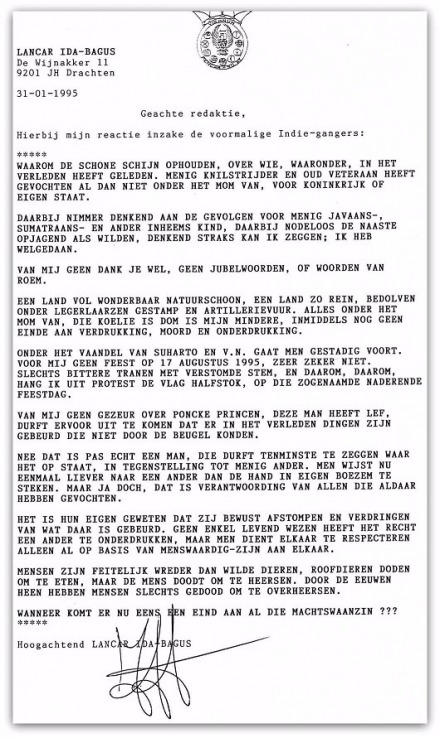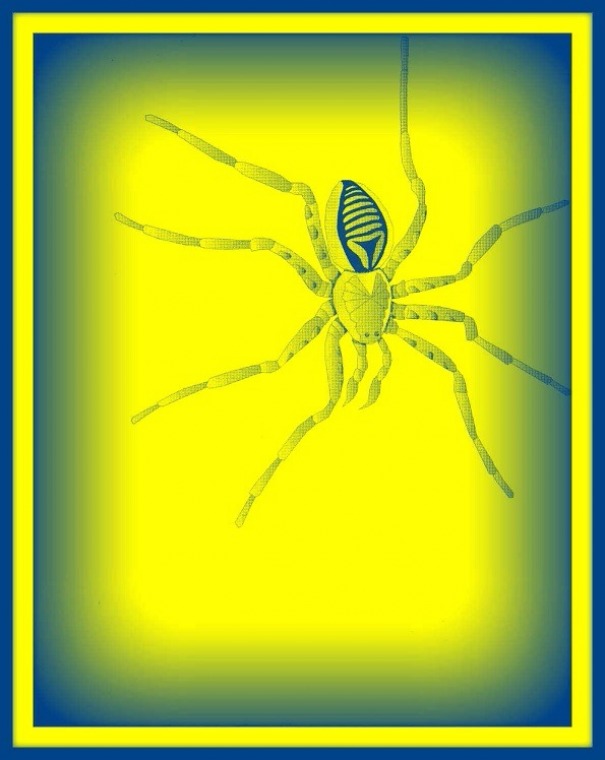 Really happened
  The following photos were taken at the time of real action and response.
For example, once in Dokkum during a Pencak-Silat demonstration by the Vishnuh Society Putuh R. de Frêtes was brutally attacked by a youngster of a local Pukulan group there.
  As you can see in the photo, the opponent was knocked out by a Putuh and could not go any further.
This is the result of disregard for the Vishnuh-Society and its members by interested Indos and Indonesian sports masters who, because of their deep-rooted cowardice, fearfully remained in the background.
… They have sent their unthinking disciples to us, who also fell for it.
The young man who is lying on the floor in an unhappy position in the photo and could no longer move a fin will certainly recognize himself when he sees these photos again. And this in the presence of a large audience who will remember this day like yesterday.
Thus again, "Pencak-Silat is not a sport. We prefer to avoid a confrontation, but we step aside for nothing and for nobody.
The rights of these photos lie with the Vishnuh-Society because the young man who received a beating attacked a member of us within our premises.
This young man attacked us completely convinced of the lies by his Indo-supporters.
"The agitator could have thought better and should not have let himself be strained for someone else's cart.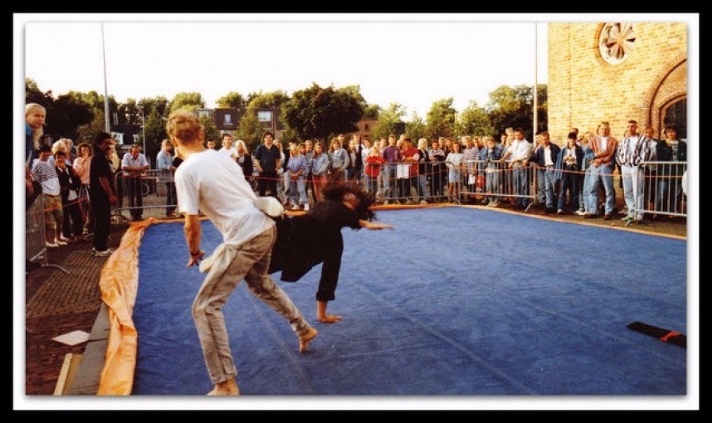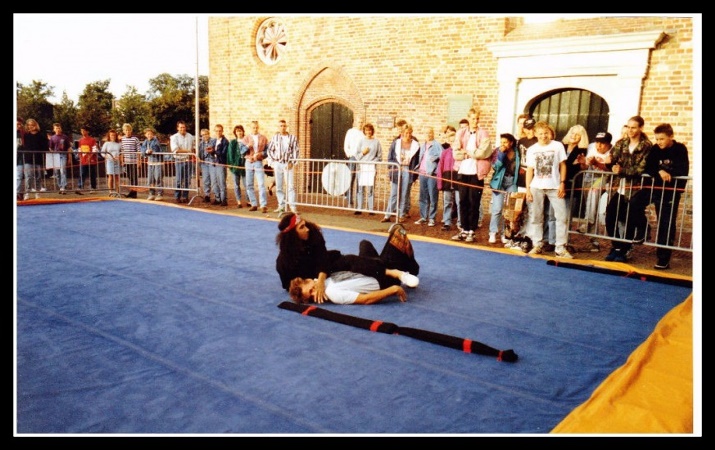 * Official notice: to anyone who concerns this.
Anyone who has consciously opposed the Vishnuh-Society and our Gurubesar in recent times will perish from self-destruction.
   The Vishnuh-Society advises all malicious persons who have been guilty of this and other underhanded behavior in relation to one or more of its members … "Go Death or Bon voyage et long return )! "
  For those who do not understand this message or do not want to understand, it also facilitates their own demise.
… Nebiru will not let anything go by without impunity, because nothing escapes them either since it has a memory like an elephant.
… Nebiru's retaliatory acts always practice justice, in accordance with the prevailing laws of nature.
It is below all levels and very base to blame, crumble or undermine fellow men on the basis of selfishness and envy in his goals using calibrated foreknowledge, knowing that "He" Gurubesar Lancar Ida-Bagus is silent as the grave because of his bondage obligation to remain silent towards our community.
The Gurubesar is, apart from its supporters, not accountable to anyone else.
It is therefore humanly fairly normal for measures to be taken in the event of misconduct against one of us.
Everyone gets his / her share. If it does not happen today, this will happen tomorrow, yesterday's day is far from over for the offenders.
Pay attention; in general, people do a lot out of guilt, and it is usually the greatest racists who adopt foreign kids or who are fully committed to Africa or to other so-called charities in third world countries or who are allegedly tolerant and sweet, to mislead the unsuspecting public but in the meantime, those in need are pushing a God and religion down their throat.
… These are often people and organizations that must be constantly monitored, not everyone is to blame for this, but most of them are!
Who in previous years, knowingly or at the instigation of an interested organization or designated individual, has acted unacceptably against our superior must then pay for the consequences and not complain as soon as reconsideration follows.
People and public authorities, who have somehow gone beyond all kinds of injustices against fellow human beings should not only enjoy the benefits of it, but they must also be consistent in accepting the consequences of their misconduct and criminality. towards another.
… Anyone who fits the shoe should wear it without regard for the person, because every living creature including King, Emperor, and Admiral, they are all mortal.
We, the members of the Vishnuh-Society worldwide, have the natural right, based on the moral right, to express our displeasure according to the truth of truth and justice.
… Know that those people who are selling something that they themselves don't adhere to at all should not expect to be taken seriously by us.
Malice will be rewarded with malice which will be done in accordance with the laws of nature, namely the wage to be received that is specifically intended for those who are greedy and unfair in spirit.
Our vindication statement is: "Anyone who doesn't give another person the light in their eyes will no longer have the right to live. God or Allah does not exist and neither does Satan!
 On behalf of the Vishnuh Society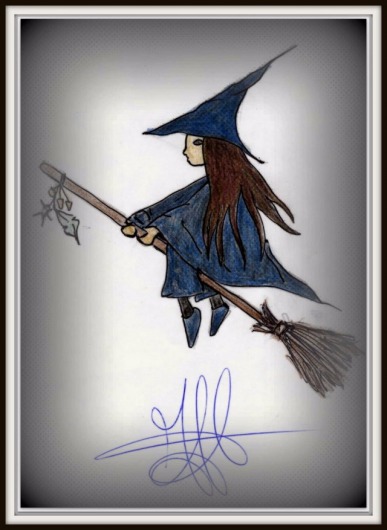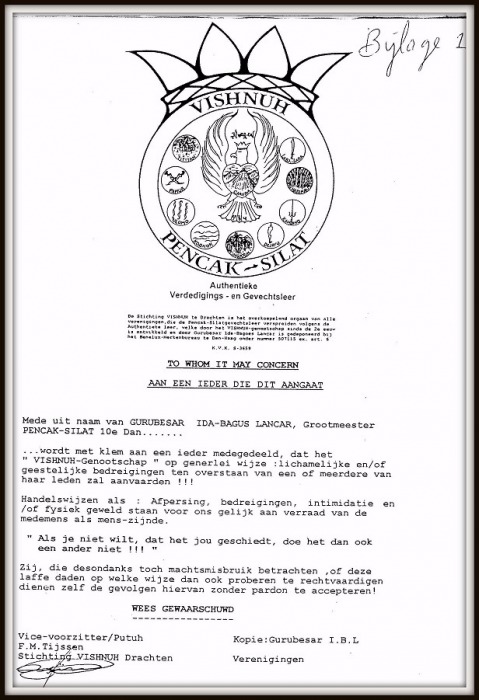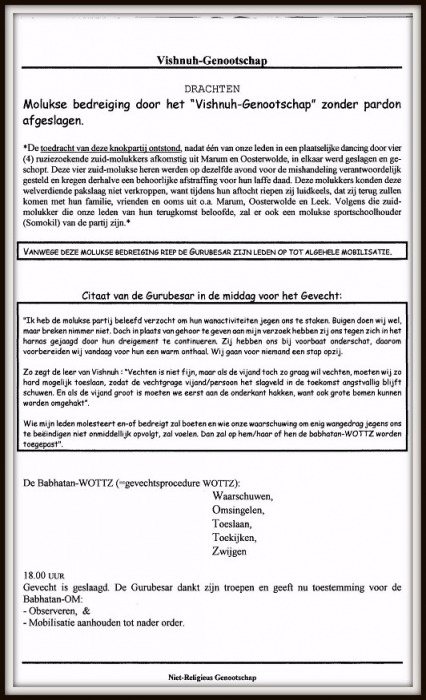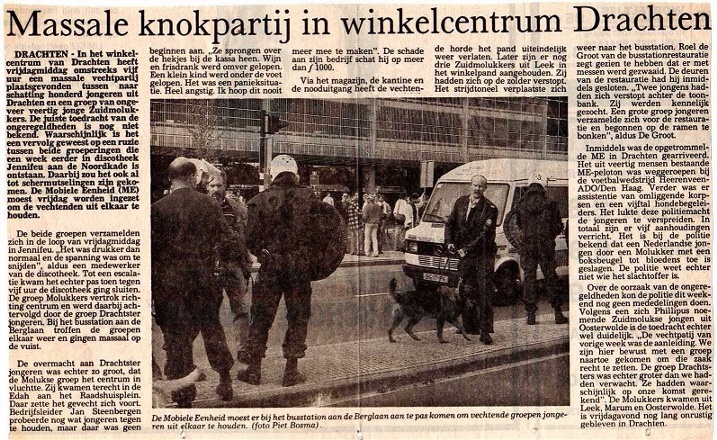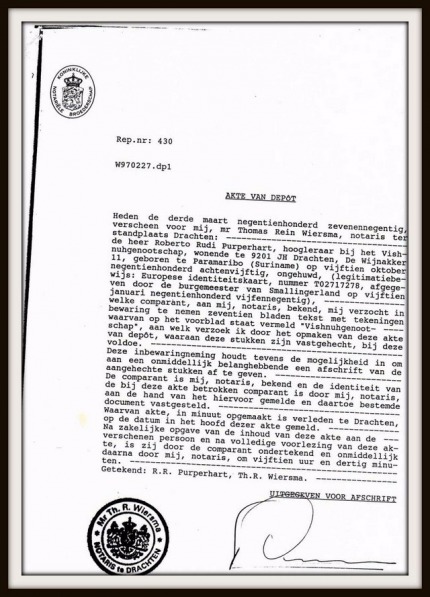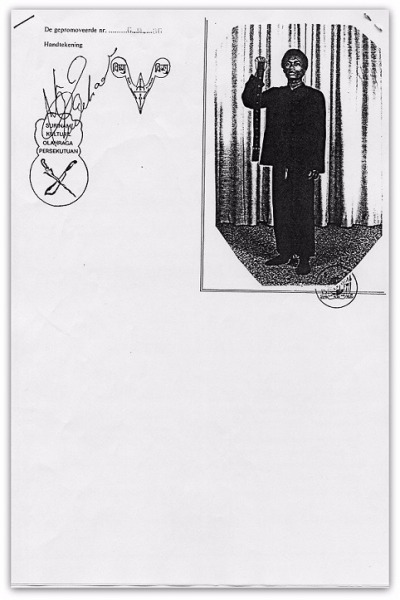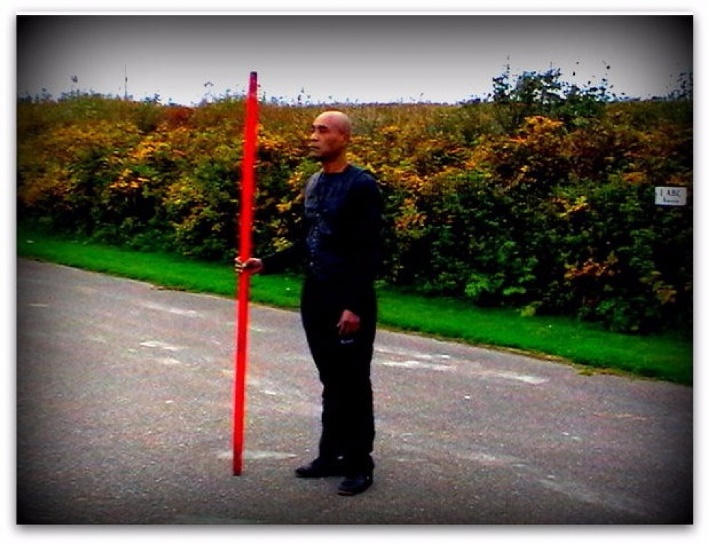 Keep your own ways and leave my ways to me, every person has the right to self-determination and self-preservation.
A HUMAN
  I am a person like everyone else;
Who are you that you think you can judge me;
You can afflict and violate my body, but you will never break my mind;
I certainly decide for myself what is good for me or not; if I fall .. okay then I fall but I get up just like that;
I have the right to live as a human being the way I want to because as an individual I have the right to self-determination and self-preservation;
Let me show my self-esteem, then I will let you … yours, as far as you still have it;
But I don't just let my enemies run away anymore, because the time of the past has already been;
I will never let them commit again and under no circumstances will I let them go unpunished, after what they have done to me with their friends.